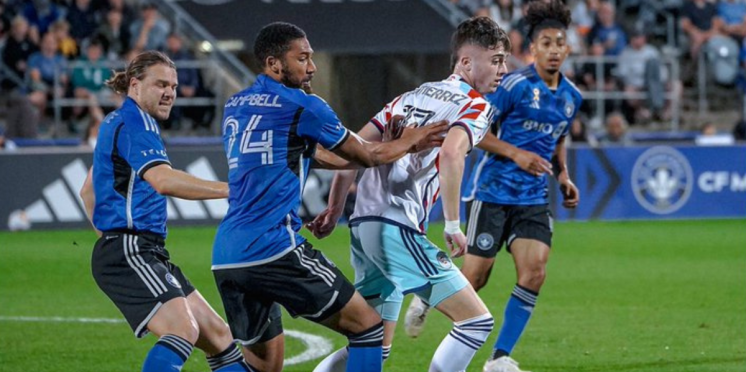 CF Montréal held to scoreless draw by Kei Kamara's Chicago Fire
Well, we won't get those 90 minutes of our lives back.
On Saturday at Stade Saputo, CF Montréal and the Chicago Fire were unable to score any goals in a scoreless draw that didn't serve two teams desperate to pick up points in a tight MLS Cup Playoff race.
"I still think this was one of our best performances," CF Montréal head coach Hernán Losada said post-game. "You see the score at 0-0 and think it's a boring game… but the chances we had tonight were enough to win the game."
Despite numerous chances, Montréal couldn't find a way past Chicago goalkeeper Chris Brady. Zachary Brault-Guillard missed the first opportunity of the game just 20 seconds in, sending his chip wide after receiving a perfect pass from Nathan Saliba. The opportunities kept coming for CFM, with George Campbell hitting the crossbar after connecting with a corner from Mathieu Choinière at the 23-minute mark.
Chicago was resilient in the first half, effectively slowing the game down, maintaining possession, and stifling Montréal's attack. The hosts started the second half with the same intensity as the first, quickly gaining possession in Chicago's penalty area and applying pressure on their defence.
Losada brought Romell Quioto on with 15 minutes to play. The Honduran had been sidelined for 125 days with a hamstring injury. Quioto's return energized both the team and CFM fans, as Montréal found room to play deep in the final third.
"Coming into the game with 20 minutes left is never easy, you have to adjust to the pace of the game, especially with guys who have played 70 minutes. The main goal was to come in and create stuff up top and we did that," said attacking midfielder Bryce Duke, who entered the game along with Quioto. "Being out for that long period of time is tough, but he played well."
Montréal had two great chances in the 90th minute. A defensive error by the Fire in their own penalty area left Duke with an open goal, but his shot was blocked. Just a minute later, a cross from Duke landed perfectly for Choiniére, who was denied by another outstanding save from Brady, his fourth and final stop of the night.
"This isn't frustrating for me, if anything it feels good. The hardest thing about football is creating opportunities and being dominant, which we were," Losada said. "We need to continuously work and improve. We just have to stick together. Unfortunately, it wasn't there tonight, but I'm proud of the performance from start to finish."
It was Kei Kamara's first trip back to Stade Saputo since demanding a trade from CF Montréal in January. The 39-year-old played all 90 minutes in the draw. The MLS journeyman has scored five goals for Chicago this season, which would make him CF Montréal's top scorer in 2023. CFM have the fourth-worst attack in MLS.
The real highlight of the night was when NBA star Lu Dort showed up with his FIBA World Cup bronze medal, after Team Canada's fantastic tournament in Southeast Asia.
Montréal set a new club record for clean sheets in a season with Jonathan Sirois' 11th of the year, breaking Evan Bush's club record set in 2018.
"It's not completely individual. It really is a group effort and I'm so proud of the guys for having this," Sirois said. "We give it our all every game and it's a great feeling. I think I've stayed pretty consistent all season long and just continued to improve different parts of my game gradually."
The draw maintains the current Eastern Conference playoff picture, with CFM remaining eighth with 36 points from 28 matches. The Fire sit three points back in 10th place.
Both teams are back in action on Wednesday, with Montréal hosting league-leading FC Cincinnati and Chicago heading to Columbus to face Jacen Russell-Rowe, Mo Farsi, and Wilfried Nancy's Crew.
---