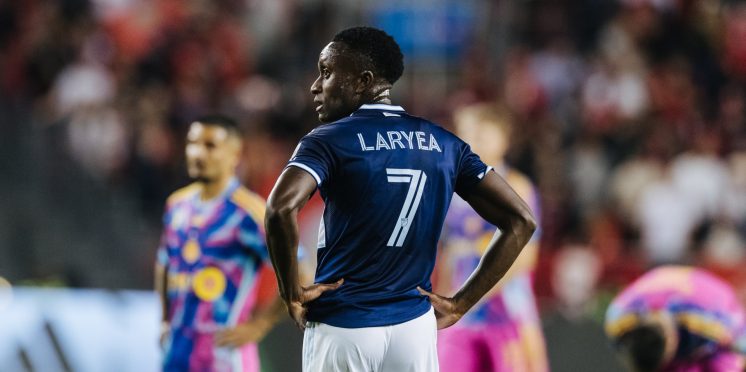 Vancouver Whitecaps make statement as 'Canada's Team' led by Ryan Gauld & Brian White to win over Toronto FC
Richie Laryea may have had all the headlines coming into Saturday night's all-Canadian clash in Toronto, but it was the Whitecaps' super duo that have been doing it all season that powered Vancouver to victory.
While the MLS fixture list makers were rather cruel to give the Caps an MLS-era longest seven-game road trip after the Leagues Cup break, the road has been very kind to Vanni Sartini's men.
Saturday night, the Whitecaps rolled into BMO Field, with the return of former Toronto FC fan favourite Laryea dominating the pre-game narrative, and left with a 2-1 win over TFC to cement their claim as 'Kings of Canada.'
"It's a fantastic win. It's beautiful and also we played very well," Sartini said. "A huge performance. Huge, huge, huge, huge."
The Italian — who wore a shirt that simply read 'Andiamo' on Saturday — has reason to be excited by how his team responded after conceding the opening goal, in an environment that was reinvigorated by the first win of the Terry Dunfield era in TFC's last outing against Philadelphia two weeks ago. The Caps are red hot having taken 16 points from their last seven games.
"It's more sticking to the plan, being confident that we have a very good team," Sartini said. "I'm really, really, really happy [because of] what I'm seeing now [in terms of] the quality on the field, and I'm really looking forward."
If it wasn't for Gauld and White, the Caps might not have been in a position to attract the Canadian men's national team stars that they've added in the last month. Saturday night Vancouver's dynamic duo combined once again as the Whitecaps took a 2-1 second-half lead, 10 minutes after drawing level thanks to a Tristan Blackmon deflection off a corner kick cancelled out Deandre Kerr's 50th minute opener.
Gauld is having an MVP-worthy season. The Scot has scored 10 goals and assisted another eight since May 31; that's the most goal contributions in the league over that span.
At what point do we start talking about making Gauld a Canadian citizen so he can play for CanMNT? The 27-year-old has lived in Vancouver since 2021, which would make him eligible for Canadian citizenship next year. The Aberdeen-born "Scottish Messi" made 21 youth appearances for Scotland, at U-19 and U-21 level, but has never been given a senior cap.
The Whitecaps have assembled a very CanMNT-heavy squad in recent weeks, with Junior Hoilett becoming the latest Canadian international to join Sartini's project, following the additions of Laryea and full-back Sam Adekugbe. Laryea started Saturday night and was only subbed off in stoppage time. Hoilett was on the bench but did not have his number called and Adekugbe didn't make the trip to Toronto because of a hamstring issue.
"We have a new player, Junior Hoilett, who just joined the team … so I think the future is bright," Sartini said.
For a team that had won just one match on the road before this seven-game road trip kicked off, the present has been pretty stellar. But with a trip to Houston on Wednesday, then a date with Real Salt Lake on Saturday, and finally a stop in Denver to face the Rapids the following Wednesday, this road swing is about to get more taxing.
"It looks like we are in a video game and every game is a different level," Sartini said. "It's more difficult, and more difficult, and more difficult. I'm Italian, so I'm thinking about Mario. So, let's arrive at the princess at the end. That's qualification to the playoffs and [finishing] top four."
There's no one quite like Sartini. And right now there's no time quite like the Whitecaps who are showing, their best may still be to come.
---