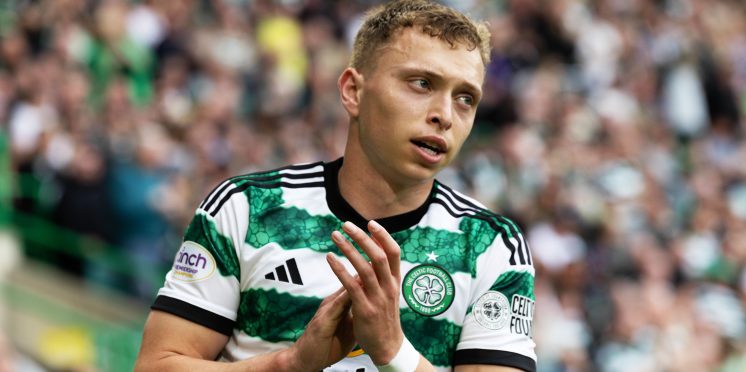 Alistair Johnston recalls fearing he'd injured Canada star Alphonso Davies in first full CanMNT training camp
Alistair Johnston is an upfront guy.
Remember when he admitted he'd lied to his former Canada head coach John Herdman about having played at centre-back before? Or when he hailed Celtic fans for their bombardment of Bell Canada's social media pages?
Well, now the 24-year-old is lifting the lid on another tale: the time he thought he'd injured Canada's prize star Alphonso Davies in one of his very first training sessions with CanMNT.
Chatting to his Celtic teammate Greg Taylor for the Bhoys' official media channels, Johnston laughed about the incident that happened back in 2021.
"I was lucky enough to be called into a winter camp when the big European players weren't in yet, it was more kind of an MLS-based one," Johnston explained. "John Herdman really liked what he saw of me and brought me back in for the next camp with the European guys over.
"My first training session of that one, I'm going one-v-one against Alphonso Davies and he actually pulled up his back in a 50-50 with me and I was like 'oh no, what have I done?' All the boys were like 'just pack your bags!' Luckily, he was alright!"
Luckily, indeed: we're not sure it would have gone down too well if an enthusiastic Johnston had crocked Canada's biggest star.
All's well that ends well.
Johnston also chatted to Taylor about his time in Major League Soccer with CF Montréal. The Canadian stated his belief that MLS can push up towards earning a status as one of the best leagues in global soccer.
"MLS is a crazy league," Johnston acknowledged. "It's growing every single year as well, you see the players coming in now…
"Especially as a young defender, most of the big-name players coming in are these attacking players that you've watched on TV growing up… [Christian] Benteke, Carlos Vela, for example. Going up against these players one-v-one was a really cool experience and I think prepared me for this level mentally.
"I'm really happy with the growth of the league, I think it's going to continue to grow. I'm expecting it to be maybe knocking on the door of being a top-five league in the world eventually. I think it will. The cities are so good, the facilities. All of these owners have really bought into spending money on facilities and that's one of the things that really makes it stand out versus other leagues that are in the same level right now in terms of quality."
On and off the field, Johnston plays with not only a full-blooded commitment that wins over fans, teammates, and coaches alike, but he also has a maturity and leadership quality that belies his age.
He explained to Taylor that this stems from his time in Montréal, when he found himself considered a senior figure at just 23 years of age.
"At that point, I'd established myself with the national team…" he explained. "When I went to CF Montreal it was a really young core and I kind of walked into that and people were instantly looking up to me as someone who plays for the Canadian national team who were about to qualify for the World Cup.
"So, instantly, I felt established and I then took on a bit more of a leadership role and enjoyed that aspect of it and I could feel myself progressing in my own career."
He ultimately left for a new challenge in Scotland after only a year in Quebec. As he's stated on the record before, once he knew about Celtic's interest, there was only one place he wanted to go.
"Going into the end of the [2022] season and the playoffs there was some interest overseas leading into the World Cup," he said. "I'd heard some rumblings that Celtic were potentially watching me and of course growing up in a British household, it was one of those ones that was like 'OK, that's really cool.' It's a massive club I'd grown up knowing about and always kind of idolized."
Things have gone pretty well for him since.
In nine months as a Celtic player since his move went through on January 1, 2023, Johnston has won the Scottish treble and is yet to lose a single game as a Bhoy.
No wonder they love him on the green-and-white side of Glasgow.
---