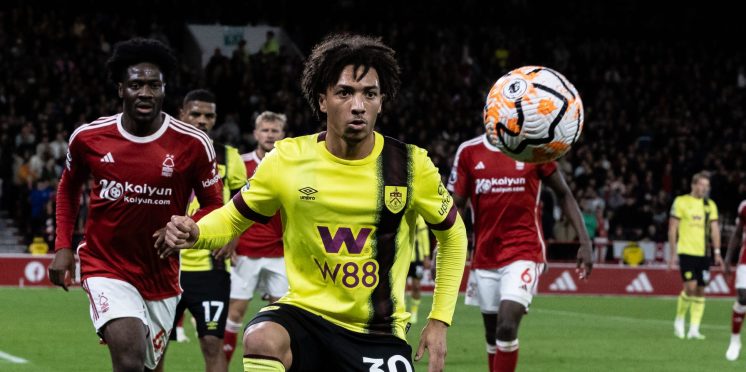 CanMNT-eligible Luca Koleosho confident after Burnley earn first point of season with draw at Nottingham Forest
Many have picked Burnley to go down this season. Don't tell that to Luca Koleosho.
The 19-year-old, who is still eligible to play for Canada, put on another positive performance in Burnley's 1-1 draw away to Nottingham Forest on Monday.
"As a team, we wanted the three points obviously," Koleosho said post-game. "We were able to go up 1-0, they scored a great goal and made it 1-1 but we were able to get a point and now I feel like the team we can build off this, get more momentum, and hopefully get more points next game out."
Monday was the first game in which Burnley have picked up points this season, their first back in the Premier League under manager Vincent Kompany, who has been hugely impressed with the American-born, Italian youth international, starting Koleosho in every match since arriving from Espanyol in the summer.
"It's always good to get, especially the first point of the season. I think that we can really build off this and just keep grinding as a team and just keep on getting more and more points, accumulate through the season, and just finish off strong."
Burnley started well, scoring first before the halftime whistle thanks to some excellent work by Koleosho down the left flank.
"We were just listening to what the coach said, sticking to the plan, trusting one another, fighting for each other and we were able to do that, and we were able to play really well and go up 1-0.
"At half-time the manager said just keep playing our football. Try and enjoy it. Be aggressive in everything and just try and add on more points."
Koleosho was a handful for Forest down the flanks and is a high-energy player who completed the most dribbles in the match, with an enjoyment level that seems undeniable to any onlooker.
"I try to! I love going at my defender. My teammates encourage me to do it and I just enjoy doing it."
Next up on the fixture list is Manchester United, who visit Turf Moor on Saturday night.
"We'll just be looking at what things went well and to improve on that. What things didn't go well and how to improve on that as well – and just as a collective, as a team just sticking to the plan and improving day by day. I know that we're going to keep on improving and I know we're going to play even better as time goes on."
After the international break and Monday's match away, Koleosho is keen to be back on home turf at the weekend.
"Yes of course, with the break, with this, we spent a lot of time away from home and Saturday we're able to go back out there and play in front of the home fans."
---