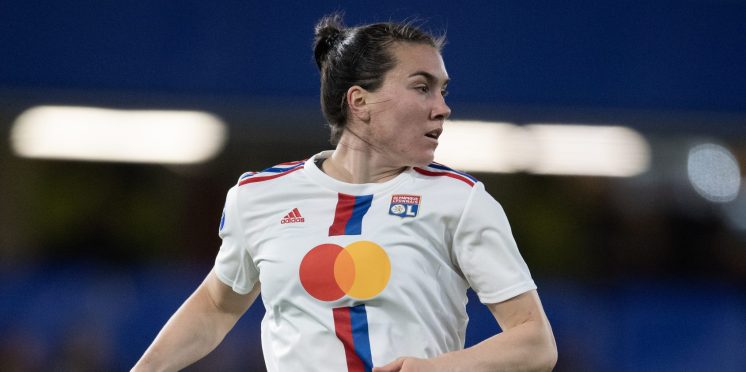 WoSo Canadians abroad: Canucks turn it up a gear a week before Olympic qualifiers
The Canadian women's national team is on the verge of reporting to camp on a mission to secure a spot at the 2024 Paris. Before heading south to face Jamaica for the first leg of their Olympic qualifying tie, several Canadian players are leaving their clubs on a high note.
That is excellent news for CanWNT head coach Bev Priestman and Canadian fans getting ready for a home game in Toronto at BMO Field on September 26. Canadians were all over scoresheets and had headlines all over Europe this past week.
Goal of the Week: Vanessa Gilles header over Le Havre
Typically, it's not a central defender that wins Goal of the Week. But Gilles is versatile enough to slot herself into this position.
The Canadian has been a vital reinforcement for the French champions since joining Lyon last year. The club was off to a rough start last season with a long injury list, including Gilles herself who was in recovery when she joined. Since starting regular games and stepping up in crucial games, Gilles has quickly become an important part of the Lyon puzzle. Playing alongside French captain Wendie Renard, it feels like a guaranteed clean sheet when the duo pairs up.
Arkema D1 league kicked off this weekend with Lyon away to Le Havre. As expected, Gilles played alongside Renard and Ellie Carpenter on Lyon's backline.
The reigning champions had all momentum from the first whistle until the final pass. Dominating over 70 percent of ball possession with 30 shots, a clean sheet, and four goals, Lyon were flying. Gilles did not just want to leave the game with an impressive clean sheet but also fancied the last goal of the game, the cherry on top.
Canada will be looking for both a composed clean sheet performance, and late goals to kill games next week. It's safe to say Gilles is practicing in some fashion to do just that.
Player of the week: Marie-Yasmine Alidou
Three goals, a trophy, and UWCL wins are a handful of achievements 28-year-old Alidou added to her resume in less than three weeks, which is pretty special for a player adjusting to a new squad.
It took the new signing two minutes to find the net on her Benfica debut against SC Braga in the semi-finals of the Portuguese Super Cup (known as the Supertaça Feminina). A few days later came a UWCL start against Northern Irish club, Cliftonville, where once again Benfica struck first through the Canadian. On Wednesday. Benfica beat Sporting CP on penalties in the Supertaça Feminina final, giving Alidou a second major trophy.
The Canadian played an important role in making space for her teammates with great off-the-ball movement. Alidou may not have had as much possession as in previous games, but she was vital in dragging opposition defenders out of shape, to allow her teammates to make runs from behind. Four days later, Alidou got a rest for SLB's league-opening game against Torreense.
On Sunday, it did not take long for Alidou to come and do what she's been doing best in the 90th minute.
Moment of the week: Julia Grosso, Player of the Match
Juventus's opening game of the Seria A season was a stressful one. Traveling away to Pomigliano, the bus trip seemed to have taken some energy out from the Juventus players as they went down in the opening 11 minutes. With star player Julia Grosso in midfield, she had action on her wing, connected forward passes, and dealt well with the opposition's press. 20 minutes later after trailing, Juventus equalized, and that was followed by Grosso's first goal of the season 120 seconds later.
But her star performance was about much more than just her goal. The 23-year-old hit the highest amount of pass completions, secured the most amount of recoveries from any Juventus player, and did not slow down for a moment over 90 minutes.
Grosso was named Midfielder of the Season last year and looks to be on a mission to collect that award again. She had a slightly underwhelming World Cup showing Down Under followed by heartbreak in the UWCL — Juventus were eliminated from the Champions League in the first round of qualifying — seeing her back in great shape on the pitch and scoring is a pleasant sight.
News of the Week: Jordyn Huitema signs contract extension with OL Reign
OL Reign announced it has exercised an extension option on Jordyn Huitema's contract, meaning that she will stay in Seattle for at least the 2024 season.
Since joining the NWSL club in June 2022 as a free agent following a three-year spell with Paris Saint-German, she has found the net 10 times for the Reign, including two assists across all competitions.
Huitema is undeniably becoming one of Canada's most important players and the No. 9 to rely on. Club life in Seattle has been great for her development. Often at times, the youngster seems to lack some confidence which is a typical sight for any young 22-year-old in the game. Despite that, she has shown extremely promising and bright moments for both club and country.
Though a lack of consistency in performance is an area to fix, the abundance of game time in the NWSL is a key remedy factor. Priestman is consistently high on praising Huitema, always instilling confidence in her player.
---