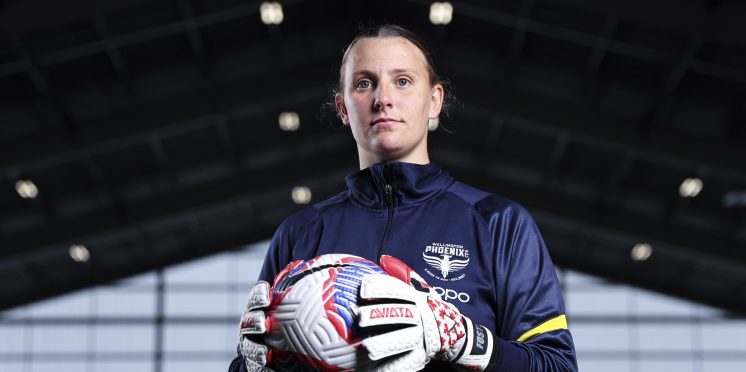 Canadian goalkeeper Rylee Foster signs for A-League's Wellington Phoenix two years after horrific car crash
Two years ago, Canadian goalkeeper Rylee Foster nearly died in a serious car accident. On Tuesday she signed a contract to play for the Wellington Phoenix of Australia's women's A-League.
While on vacation in Finland in 2021, Foster was ejected from her rental car, flying through the windshield, because of a faulty seatbelt. At the time she was 23 years old and played for Liverpool.
The accident left Foster with seven neck fractures, a halo around her neck, and several doctors delivering the heartbreaking diagnosis that she would never play again.
"Joining the Phoenix is very symbolic," Foster said. "It's a new becoming. It's arising from something that was literally in ashes. I've been through a lot in the last two years, more than most people go through in their whole lives."
In Wellington, New Zealand, the Cambridge, Ontario native has a new lease on the game, and on life.
"The fact that I'm alive is phenomenal," she said. "The injury that I sustained is known to kill you instantly, if not become a tetraplegic, which is what Christopher Reeve was."
The now 25-year-old, who is a Canadian youth international, will battle with Brianna Edwards to be Wellington's No. 1 goalkeeper with inaugural club captain Lily Alfeld out for the season after undergoing back surgery.
New Phoenix head coach Paul Temple says with Foster and Edwards that he has "the best goalkeeping pair in the league."
"Brianna was our No. 1 goalkeeper in the league last year, and we wanted to bring someone else in [who] could also be a No. 1 goalkeeper," Temple said. "Those two can fight it out and there will be a really good competition for that place. I think that will bring the best out of both of them like it has everywhere else on the pitch."
Having made 16 appearances for Canada at U-17 and U-20 level, Foster has yet to be capped for the senior team but was the third goalkeeper on CanWNT's SheBelieves Cup team in January 2021.
"There have been a lot of sacrifices and blood, sweat and tears to get to this point, and a lot of hurdles in regard to physical and mental health," Foster said.
"I feel at home, and I feel ready to go and do what I need to do to pay back that trust."
Wellington finished dead last two years in a row. They kick off the 2023-24 season at home to Melbourne City on October 15.
---