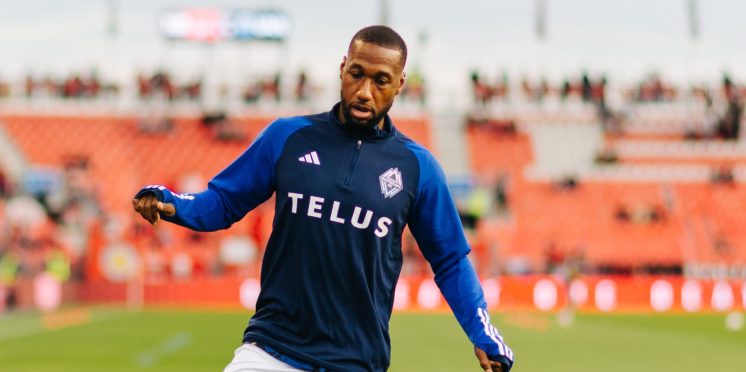 CanMNT winger Junior Hoilett credits Tosaint Ricketts for decision to sign for Vancouver Whitecaps
The Vancouver Whitecaps have taken MLS by storm as they continue to climb up the table looking to solidify home pitch advantage ahead of the MLS playoffs next month.
The Whitecaps are 11-8-8 on the season and sit in fourth in the Western Conference with 41 points; one point up on Houston, Real Salt Lake, and San Jose. Vancouver has a game in hand on both Houston and Real Salt Lake, who they will both play this week.
As Vancouver continue their seven-game road trip with a pair of Western Conference road matches this week, the Caps have a new addition who's raring to get on the pitch.
Junior Hoilett was smiling ear to ear as he met with the Vancouver media on Monday following his first full training session at UBC with his new Whitecaps teammates.
The former Reading FC, Cardiff City FC, Queens Park Rangers, and Blackburn Rovers man has spent his career playing across the pond in England, moving there with his family at the age of 13. Why move to MLS now?
The Brampton, Ont. native, was persuaded to join the Whitecaps thanks to a former CanMNT teammate. If it hadn't been for the Whitecaps Liaison of Club and Player Engagement, Tosaint Ricketts, the signing doesn't get done.
"Yeah Tos (Ricketts) played a major role," Hoilett explained following training in Vancouver on Monday. "He's the one that reached out and showed me the opportunity and ambitions. If it wasn't for him, I don't think I would have been here."
This is not the first time a Canadian international has joined the Whitecaps organization thanks to the hard work and determination from Ricketts. He continues to fly under the radar with his immense contributions on and off the pitch to help drive the club forward.
"When Tos called me up a few weeks ago I was all for it," Hoilett said. "It's part of my journey. To come back home and play on home soil with a team that's performing well and has good ambitions on and off the field, has progressed, and established themselves off the field, it's something that I want to be a part of. I'm just happy to be here."
Hoilett's MLS debut could come as early as Wednesday when Vancouver takes on the Houston Dynamo at Shell Energy Stadium. Whether it's the 120 minutes that Hoilett said he was good to play or a possible substitution off the bench, Hoilett just wants to be involved. 
"I'm ready," Hoilett said. "I just want to be on the field and help the squad. I'm just waiting for 90 minutes, one minute. As long as I'm on the field, I'm happy."
The Whitecaps' recent additions of Sam Adekugbe, Richie Laryea, and Hoilett have not only bolstered their attacking options and depth, but they've shown a commitment from the organization to go out and bring Canadian internationals back home to play in Canada.
It also presents a headache for Vanni Sartini as he looks to find playing time for everyone.
"I think Junior is already in good condition," Sartini said following training in Vancouver on Monday. "He was already training in England. We saw him here (today) and I think he's ready to go, probably not to do 90 minutes, but ready to be an option. He lacks of course game rhythm. The only way to get game rhythm is to play games. We hope to incorporate him as soon as possible because he can give us something different."
The Whitecaps as a team won't be looking to do much of anything differently when they take on Houston and Real Salt Lake. After struggling to earn MLS points away from home this season, Vancouver is currently on a 4-0-1 ripper away from BC Place.
Although he has yet to make his Whitecaps debut, Hoilett was asked about possible contract extension talks, should he want to stay with the Whitecaps beyond this season.
"Not at the moment," Hoilett said. "I haven't even played a game yet. I'm just taking each day as it comes. I'd be delighted if the opportunity comes. The way they've treated me off the field. The way the team is playing, the ambition on and off the field is delightful to see and I want to be a part of it."
Hoilett and the Whitecaps are focused on the present as they look to continue their road success by taking a possible six points away from home this week.
---