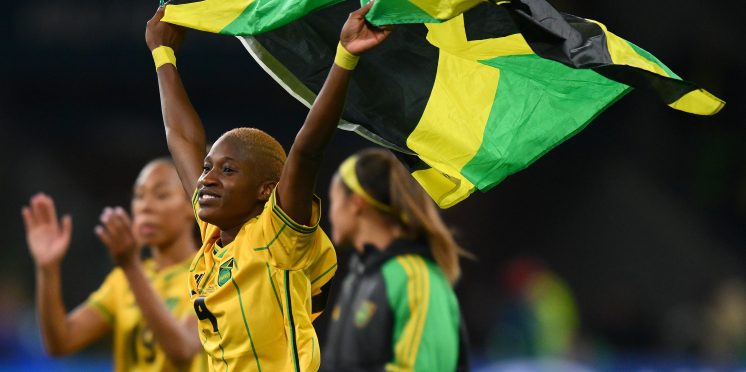 Jamaica boosted by cash investment ahead of Olympic qualifier against Canada
Published: September 18, 11:39 p.m. ET
Updated: September 21, 11:54 p.m. ET
What's tougher than facing a red-hot team in a do-or-die playoff? A red hot team with money.
To have a chance to defend their Olympic gold medal in Paris, the Canadian women's national team must beat Jamaica in a two-game playoff, with the second leg at BMO Field already sold out.
Jamaica were one of the biggest surprises at this summer's World Cup, reaching the knockout stages by ending Marta's World Cup career and Brazil's run. They then lost to Colombia in the round of 16 by a single goal.
With their sights set on elevating the women's game in Jamaica, the Jamaica Olympic Association (JOA) and the Jamaica Football Federation (JFF), along with support from the Bob Marley Foundation, have pledged $25 million to assist the senior Reggae Girlz in their two-legged Olympic qualifier against Canada.
Canadian Soccer Daily has learned since this article was originally published on Monday, September 18 that $25 million investment is in Jamaican dollars, which actually equates to just $217,280 CAD. 
$15 million ($130,605) will be directly invested in the Reggae Girlz qualification bid and potential Olympic run, with $10 million ($86,910 CAD) allocated for player incentives.
"For far too long, we have seen that sport takes cash to care," said Ryan Foster, JOA's general secretary and chief executive officer. "But it also takes something more profound, that relationship, that love, that support framework required to allow our athletes to self-actualize, and we want to continue to be a part of history."
Incentives for Jamaican players include goal bonuses, assists, clean sheets, and team prizes for qualifying for Paris 2024.
Jamaica will host CanWNT in the first leg at Kingston's National Stadium on September 22, before the deciding leg at Toronto's BMO Field on September 26.
While CanWNT players and head coach Bev Priestman shied away from blaming a lack of preparation as the reason for a group stage exit at the Women's World Cup, it's undeniable that Canada had far less preparation than other nations with only the SheBelieves Cup —marred by protest and an ongoing fight with Canada Soccer — and one game against England played behind closed doors before the tournament kicked off.
A major part of the Canadian women's national team's fight with Canada Soccer has been about a lack of resources and financial support. To see a smaller nation receive such support from its own federation and partners shows how quickly Canada will fall down the rankings without improved support and investment.
---