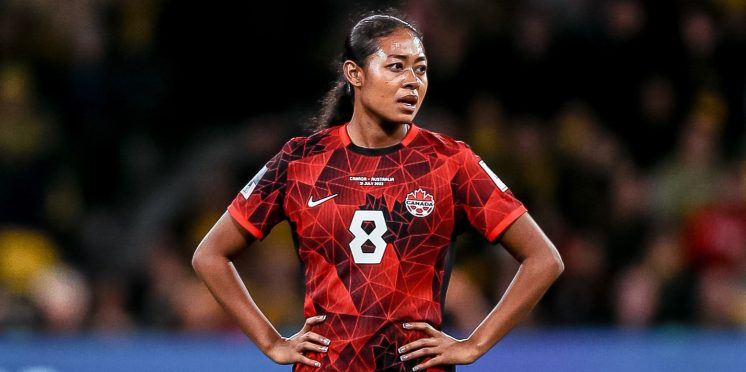 Jayde Riviere, Deanne Rose drop out of Canada squad for CanWNT's Olympic qualifier playoff against Jamaica
The Canadian women's national team have been dealt a blow just days before the first leg of their 2024 Olympic qualifier playoff series against Jamaica.
Right-back Jayde Riviere and depth option Deanne Rose have both withdrawn from the squad to face Jamaica on September 22 and 26.
The two absentees will be replaced by CanWNT Under-17 and Under-20 star Annabelle Chukwu. The England-born 16-year-old has been called up to the senior team before, being named in the roster at the age of just 15 in November 2022, but is yet to debut for the team.
While that's great news for Chukwu, the absences of Rose and particularly Riviere, who had missed Manchester United's last two friendlies, pose a problem for Bev Priestman. Veteran right-back Allysha Chapman is also out of the squad for personal reasons, leaving Priestman light at full-back for these vital games. Manchester United's Riviere started all three games for Canada at this summer's World Cup.
Veteran Ashley Lawrence, who can operate in either full-back position, could move over to right-back to take her place. Other options to replace Riviere could include Gabrielle Carle, Bianca St-Georges, and Jade Rose. Whoever is chosen will be tested against a dynamic Jamaican attacking line including the likes of Manchester City star Khadija 'Bunny' Shaw.
Meanwhile, Rose, who recently signed for English WSL side Leicester City, featured in two of CanWNT's World Cup games, starting one and coming on as a substitute in another. She is a useful option for Priestman and so will also be an unfortunate miss. It's sad to see her plagued by injury issues once again.
Canada travel to Kingston, Jamaica for the first leg on Friday night before hosting the Reggae Girlz at a sold-out BMO Field next Tuesday, Sept. 26.
"We have to turn the page, to get back on the horse and prepare for a new journey," Priestman said earlier this month. "We know how dear the Olympic Games are to this group's heart…
"We're playing a team who are very hard to beat, only conceded one goal despite playing two top 10 teams… This is not the same Jamaica to even what we faced last year. We have to respect what they did during the WC. We have to beat the team in front of us, and they have been playing well. I expect a difficult game.
"No. 1, get to Paris. That is the clearest objective. No. 2, evolve, but evolve to win. We have to earn the right to be in Paris '24."
---