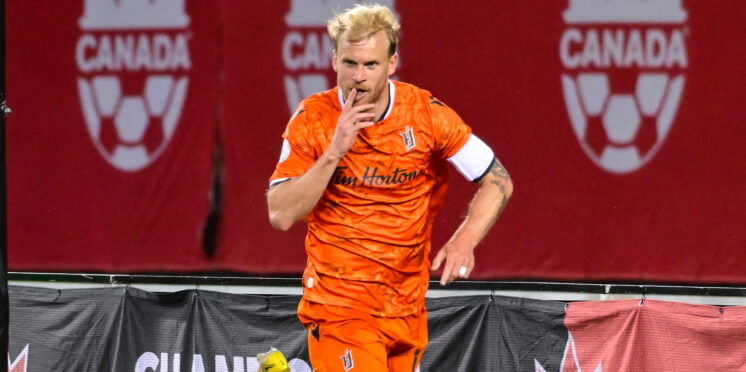 The very best of the 2023 Canadian Premier League season: Players, goals, and Canadian stars
This Saturday, three-time Canadian Premier League champions Forge FC are hosting this year's regular season winners Cavalry FC in the battle for playoff supremacy and the inaugural North Star Cup.
Prior to what should be a spectacle in front of over 10,000 fans at Tim Hortons Field, the annual end-of-season awards ceremony will take place in downtown Hamilton on Thursday, with six winners set to be announced from categories such as Coach of the Year to U-21 Canadian of the Year.
Before the official recipients are revealed, we wanted to throw a little awards show of our own, starting by electing a standout from each of the league's official categories as well as coming up with a few new prizes just to make things a bit more interesting.
The Real Deal
Player of the Year: Daan Klomp (Cavalry, defender)
Playing every minute for the regular season champions will get you noticed.
Known as 'The Flying Dutchman', Daan Klomp quietly excelled for Cavalry en route to the club's first trophy in the 2023 North Star Shield. Solid in either a three or four-man backline, Klomp led the way for a club that finished the campaign with the best defensive record, and he even managed four goals himself (plus a fifth in the playoffs).
A consistent pillar for the league's best outfit, Klomp should be the favourite in this category even if he doesn't bring the same flash to a shortlist of nominees in which he is the only defender.
Golden Glove: Nathan Ingham (Atlético Ottawa, goalkeeper)
Nathan Ingham should feel a bit hard done not even being listed as a finalist for this award after being named a nominee last year and in 2019 while with York 9. Perhaps a more difficult position to judge over the course of a 28-game regular season, Ingham seems to pass the eye test year after year, making fewer gaffes, and coming up big on more occasions than any other keeper in the division.
Not called to make as many stops as Valour's Rayane Yesli nor rooted behind the league's most formidable defence like Cavalry's Marco Carducci, Ingham is stuck in no man's land when it comes to the conversation around the CPL's crop of goalkeepers. Still, he conceded fewer goals per match than every starting keeper not named Carducci and brings a steadiness to his team's defensive third. We see you, Nate.
Defender of the Year: Daan Klomp (Cavalry, defender)
The Cavs could nab the double if they are able to better their rivals on Saturday but before that, Klomp might just take home a double for himself if he is crowned both Player of the Year and Defender of the Year for 2023.
Some voters might feel swayed to go in a different direction here if they already have Klomp pencilled in for their Player of the Year vote, but not me. Klomp is more than deserving of both honours but it isn't difficult to envision Halifax's Daniel Nimick maybe stealing this one considering the centre-half isn't on the ballot for Player of the Year.
Best Canadian U-21 Player: Kwasi Poku (Forge, midfielder)
This one is a real toss-up. The league did an excellent job with their nominations here, electing Kwasi Poku, Matteo de Brienne, and James Cameron for the young Canuck award. Poku and De Brienne stand out as the favourites with very little separating the two wide players.
Valour's De Brienne will likely edge this one; he did play more minutes, score more goals, and gather more assists than his Forge counterpart. Poku, though, was able to contribute to a winning team and show a ton of poise down his side's left flank while earning more and more trust from Bobby Smyrniotis along the way. De Brienne certainly had his moments, but Poku is looking a lot more like the finished product, while the Valour man appears to only be scratching the surface with how good he can be.
Coach of the Year: Tommy Wheeldon Jr. (Cavalry)
Sorry Bobby, it's just not meant to be. Forge's bearded bench boss is more of a playoff guy anyway. This doesn't feel like the time he claims his first Coach of the Year crown after the season Cavalry had, winning the regular season title by a record 13 points.
Tommy Wheeldon Jr. won the inaugural Coach of the Year award way back in 2019 and looks set to be the first to earn the title twice. Standing in his way is the aforementioned Smyniotis, and Wanderers manager Patrice Gheisar, who steered Halifax to a remarkable third-place finish in what appeared to be a year meant for rebuilding.
Even though Halifax surprised the masses, let's not pretend like Cavalry were shoe-ins to run away with the North Star Shield race. Wheeldon Jr. did a tremendous job with bringing in fresh blood, while also getting the best of familiar faces to deliver some silverware to Spruce Meadows at long last.
The Hypothetical Honours
Canadian Player of the Year: Kyle Bekker (Forge, midfielder)
In the running for 2023 Player of the Year and a winner back in 2020, Kyle Bekker is no stranger to having his name brought up when people discuss the league's finest. Although we didn't see Forge dominate the regular season in 2023, the former Toronto FC man was at the centre of all that went right for the Hammers, putting up four goals and seven assists across 26 regular season appearances.
Showing no signs of slowing down at the age of 33, Bekker continues to pull all the strings for Forge, even with emerging talents like Poku and Noah Jensen breaking through. Asked to do so much for his team with regard to chance creation, it's hard to imagine Smyrniotis' side without the Oakville native.
Most Improved Player: Cale Loughrey (HFX Wanderers, defender)
Lost in the mess while on loan from Forge at FC Edmonton last year, Cale Loughrey proved in 2023 that he is one of the league's best young defenders. A bit-part player while with the Eddies, Loughrey has evolved into a reliable centre-back for Patrice Gheisar's Halifax.
When Canadian international Doneil Henry joined Halifax back in July, it was expected that he would eventually take the place of Loughrey, who up until that point was forming a strong understanding next to Nimick in the Wanderers' backline. Instead, Loughrey deservedly kept his spot and started all but one of Halifax's 13 regular season games after Henry's arrival out east. Mobile and aggressive, the 22-year-old Loughrey could be a central figure in Gheisar's defence for years to come.
Newcomer of the Year: Daniel Nimick (HFX Wanderers, defender)
Speaking of Halifax defenders, Nimick looked the part in his first few matches for the Wanderers after being snatched up by the club following his selection in the 2023 MLS SuperDraft by the Vancouver Whitecaps.
Appearing in 27 of 28 regular season matches, Nimick showed off his passing range and goalscoring ability a number of times and garnered a lot of hype after a stellar first couple of months in the CPL. From converted penalties to missile headers, Nimick grabbed the headlines as Halifax reached new heights and he was awarded for his fantastic debut season with a nomination for Defender of the Year.
He might not be in the CPL for much longer given how great he has looked, and it could just be a matter of time until another team in MLS gives the talented defender another chance. But, for now, he is the league's unofficial Newcomer of the Year.
Best Goal: Brem Soumaoro (York United, midfielder)
CPL has a self-monikered reputation as being the place for bangers only, but there's only one winner here.
Watching this goal live, you just knew it would end up being the season's best even though there was still a handful of months remaining in the regular season. There was no beating it.
The thunderbolt of a strike from York United's Brem Soumaoro is unreal without any additional context. It's made even better when you realize that it was a last-minute winner, scored away from home against the Nine Stripes' local rival.
One of the most ridiculous goals you'll ever see.
---