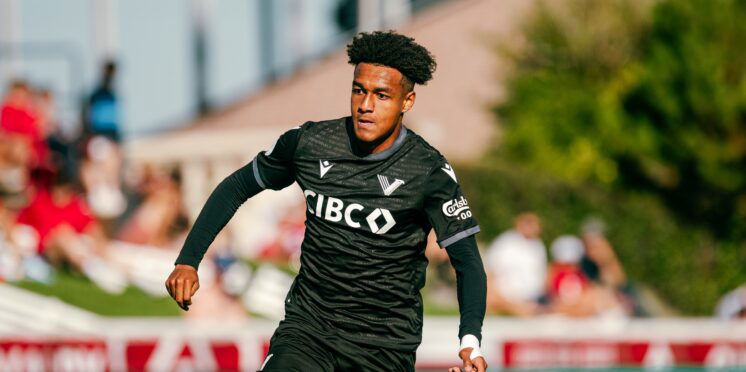 Teenage Vancouver FC star TJ Tahid headlines Canada's Under-17 World Cup squad
Canada gets a third FIFA World Cup in the space of a year this month, as the men's Under-17 team prepare for the U-17 World Cup in Indonesia.
On Thursday, Canada Soccer announced the final squad for the tournament, featuring some of the best and brightest young Canadian talents.
The majority of the roster is made up of MLS Academy prospects. Toronto FC has 10 academy players in the group, followed by three from CF Montréal, two from the Vancouver Whitecaps, and one from Inter Miami.
Headlining the group is Vancouver FC's TJ Tahid, the precocious talent who became first the Canadian Premier League's youngest-ever player and then its youngest-ever goalscorer in the 2023 season.
Tahid made his Vancouver debut in May and went on to make 20 appearances in the CPL this year, scoring three times.
In September, his meteoric rise to prominence within Canadian soccer circles was rewarded with a first call-up to the CanMNT U-17 team.
Tahid is one of two CPLers who are going to the World Cup, with Forge FC winger Kevaughn Tavernier joining him. Tavernier joined Forge from Sigma FC, travelling the Bobby Smyrniotis pathway to the CPL, and made his debut for the eventual champions in September.
Some of the other recognizable names in the squad include TFC centre-back Lazar Stefanovic, who made three MLS appearances under interim head coach Terry Dunfield earlier this season and captained Canada's U-17s during their run to the semi-finals at the CONCACAF Championship.
Alessandro Biello, son of current interim CanMNT head coach Mauro Biello, is also included.
After facing off against Brazil next weekend, Canada kick off their U-17 World Cup campaign against Spain in Surakarta on November 10 in their opening game of Group B, which also includes Mali and Uzbekistan.
CanMNT U-17 head coach Andrew Olivieri noted that good performances from the teenagers at the World Cup could "springboard some of these young men's careers." The likes of former TFC players Jayden Nelson and Jacen Russell-Rowe are evidence of that, after featuring at the last U-17 World Cup in 2019.
The tournament can be watched via TSN and RDS in Canada.
Full Canada U-17 World Cup squad:
​1 – GK – Nathaniel Abraham | CAN / Toronto FC Academy
​2 – FB – Theo Rigopoulos | CAN / Toronto FC Academy
​3 – FB – Gaël de Montigny | CAN / Académie CF Montréal
​4 – M – Alessandro Biello | CAN / Académie CF Montréal
​5 – CB – Chimere Omeze | CAN / Toronto FC Academy
​6 – CB – Lazar Stefanovic | CAN / Toronto FC Academy II
​7 – F – Taryck Tahid | CAN / Vancouver FC
​8 – M – Jeevan Badwal | CAN / Vancouver Whitecaps FC Academy
​9 – F – Antoni Klukowski | POL / Pogoń Szczecin
​10 – M – Philip Igbinobaro | CAN / Toronto FC Academy
​11 – F – Kevaughn Tavernier | CAN / Forge FC Hamilton
​12 – FB – Aidan Fong | CAN / Vancouver Whitecaps FC Academy
​13 – M – Richard Chukwu | CAN / Toronto FC Academy
​14 – M – Tyler Londono | CAN / Toronto FC Academy
​15 – CB – Victor Fung | USA / Inter Miami CF Academy
​16 – GK – Dominic Kantorowicz | CAN / Toronto FC Academy
​17 – CB – Étienne Godin | CAN / Académie CF Montréal
​18 – GK – Alexander O'Brien | CAN / Toronto FC Academy
​20 – FB – Lino Aklil | FRA / HSC Montpellier
​21 – F – Lucas Ozimec | CAN / Toronto FC Academy
---