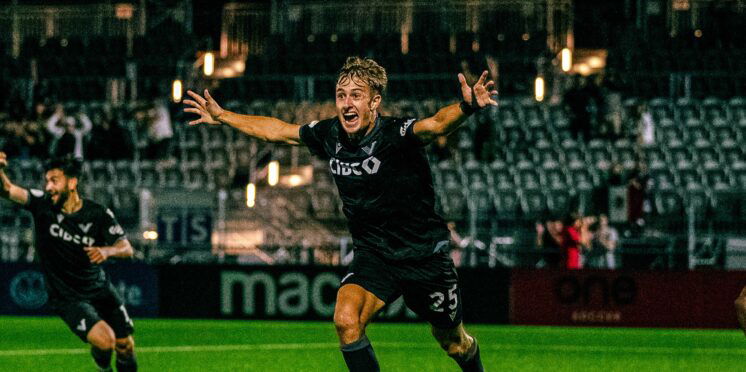 Vancouver FC prodigy James Cameron training with English Premier League clubs including Luton Town
Published: November 3, 8:54 a.m. ET
Updated: November 3, 8:10 p.m. ET
Teenage Vancouver FC star James Cameron has an appropriate name, because his last six months have been like a movie.
Part of the Canadian Premier League's self-defined mandate is to offer young Canadian players not only a chance to play competitive high-level senior football on a regular basis, but also to provide pathways for those players to reach higher levels in their careers than would have been possible without the league. After five years, you'd have to say it's going pretty well.
This year, expansion club Vancouver FC were one of the primary proponents. Now, one of their top young talents is on trial in England after just half a season playing at CPL level.
As first reported by OneSoccer's Josh Deming, 18-year-old Cameron is currently training at English Premier League club Luton Town. Vancouver FC confirmed on Friday evening, in a joint media release with Canadian Soccer Daily, that Cameron will train with multiple Premier League sides in what is a titanic opportunity for the youngster.
"Cameron's experience gained from this opportunity will be valuable to his growth as a professional footballer when he returns to Vancouver FC for 2024," said Vancouver FC. "The fact that this opportunity would not have been presented to the native of North Vancouver prior to the platform of the CPL and, specifically, Vancouver FC, is a significant step in the development of Canada's soccer status on the international stage."
Langley, B.C.-based Vancouver FC were one of the first two clubs, along with Winnipeg's Valour FC, to hit the required 2,000 total minutes played by domestic U-21 players, reaching the mark way back in late June. VFC ultimately finished with over 5,000 domestic minutes played by young athletes.
Meanwhile, Afshin Ghotbi's side also took advantage of the new Exceptional Young Talent roster category to great effect, using the extra under-18 roster slots to sign the league's breakout teenage star TJ Tahid and fellow teenager Cameron.
Tahid's achievements have been well-documented, resulting in him being named this week in Canada's squad for the Under-17 World Cup beginning this month.
Cameron, meanwhile, cemented himself as a first-team regular in Ghotbi's starting XI after his June debut, missing just one match after that bow. He played in all but one of the club's eight wins in its debut season, scored a 93rd-minute game-winner, and finished the campaign as the club's leader in both tackles and duels won per game.
So impressive were his first few months that he was nominated for the Best Canadian U-21 Player.
But he wasn't present at the CPL awards last month, reportedly because he was already on trial with Luton. The Hatters have history with the CPL, with former Cavalry striker Aribim Pepple currently on the books at Kenilworth Road.
Ghotbi told Canadian Soccer Daily recently that the success of the likes of Cameron and Tahid was a core starting aim for Vancouver FC and is a source of great pride to him and to club CEO Rob Friend.
"A big question for us was how do we create a club that creates pathways and mentors and helps to develop a platform and environment wherein we can develop the young talent?" Ghotbi told us. "This is really dear to us. One of our mission statements is taking local young players and coaches, developing them to become professionals and make a living of their passion.
"We looked at young players and we gave players like TJ and James Cameron contracts and brought them into the organization and then gave them playing time. We want to continue improving players and developing players, that's very important for the ownership and myself.
"We want to be a hub and a club that's going to become famous for developing the greatest players in North America. I think with TJ, with James, we're on the right path and there'll be more players in the coming months who we will put in front of Canada and in front of the world."
Whether Cameron is offered a contract by Luton or any other English club or his trial is ultimately terminated, he is the latest in an ever-lengthening line of breakthrough CPL stars to have the experience of training or trialling at a high level in Europe. Ghotbi would be sad to lose such a talented teenager who has become an important member of his team, but it's all part of the master plan for both Vancouver and the CPL.
More Canadian talent getting recognition outside Canada can only be a good thing.
---