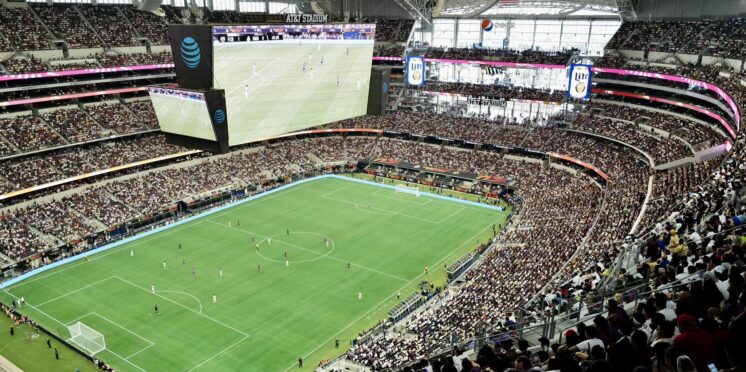 Dallas Cowboys' stadium to host 2024 CONCACAF Nations League semis & final in March
The CONCACAF Nations League is coming to Jerry's World.
AT&T Stadium in Arlington, Texas — the home of "America's Team" the NFL's Dallas Cowboys — has been chosen as the host venue for the CONCACAF Nations League semi-finals on March 21, and the final to be played three days later.
In July, 82,026 fans watched a friendly between Real Madrid and Barcelona, making it the largest crowd ever for an El Clasico in the United States, as well as the largest club soccer match that stadium has ever hosted.
The world's first $1 billion stadium is one of the 11 American venues that will host matches for the 2026 World Cup. It is also being considered as a potential venue for the 2026 World Cup final on July 19, which has the Kroenke family threatening to pull Los Angeles' SoFi Stadium from hosting duties. A World Cup final in Dallas would be cool, but could you really imagine a North American World Cup without games in LA?
In 2024, the Nations League semi-finals will feature the winners of the four ongoing quarterfinal series: United States vs. Trinidad and Tobago, Mexico vs. Honduras, Costa Rica vs. Panama, and, of course, Jamaica vs. Canada. 
The United States won the first two editions of the Nations League, winning in 2021 in Denver and this June by playing Canada off the pitch in Las Vegas.
This year though, the four Nations League quarterfinal winners will also qualify for next year's Copa América, which will be expanded to include six CONCACAF teams and take place in the United States.
The CNL quarterfinal losers will have a chance to secure two Copa América berths through a playoff, which will be held on March 23 at FC Dallas' Toyota Stadium in Frisco, Texas.
---