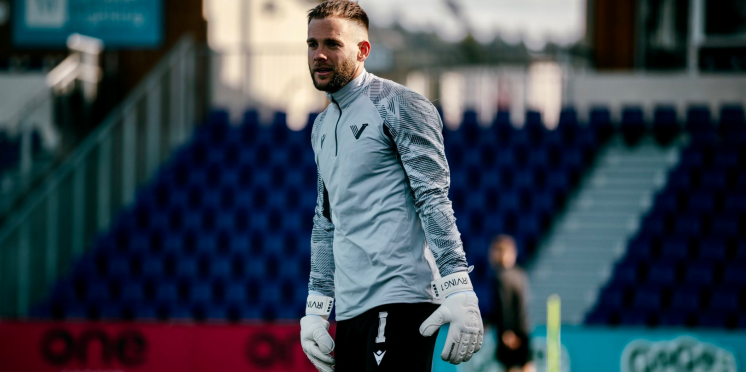 Vancouver FC captain Callum Irving looking ahead to big things for VFC after up-and-down inaugural CPL season
It's a marathon, not a sprint. For Canadian Premier League expansion side Vancouver FC, that phrase couldn't be more true.
After a rocky inaugural campaign in which the fledgling Eagles endured some difficult runs of form and rough scorelines, the understanding within the camp is that there is much to build upon and also work towards as they set their sights on 2024 and beyond.
Goalkeeper Callum Irving was announced as the club's first signing in December 2022, being named VFC captain four months later. Having developed his game in the Whitecaps academy and playing three seasons for Pacific FC on Vancouver Island, Irving was no stranger to the B.C. soccer scene when he became the first name on Afshin Ghotbi's roster. But, suiting up on the mainland with a startup club brought new experiences for the 30-year-old shot-stopper.
"It's a journey that's for sure," Irving told Canadian Soccer Daily via Zoom. "When you're there in those early days it can be rough at times but I think it's super rewarding being a part of an expansion club, especially in your hometown. I bring a lot of passion to my work generally but in my home city it's even more so."
Up against it from the start, Ghotbi and the club did not have an existing youth infrastructure to call upon and the Vancouver manager recently admitted that finding a starting base of players to work with was a challenging undertaking without an expansion draft process. Though Irving believes that such a format would naturally help those next franchises that join the CPL family build their initial squads, he also recognizes that it would be difficult for the league to implement given the lack of a CBA.
"Despite struggles and despite challenges I think those are where you kind of grow and learn the most and so I think that's what a lot of people within the club tried to look at this year as. I'm extremely proud of what everybody did."
Irving says that joining a new team is always a leap of faith, regardless of whether that team happens to be an expansion club. Any doubts he had initially were quelled however by the fact that he was joining an organization under the guidance of SixFive Sports & Entertainment, the same owners of his former club Pacific. Combined with the impressive pedigree of Ghotbi, Irving believed that Vancouver FC was in good hands, even if the initial recruitment process proved to be testing.
Both Vancouver FC and Pacific followed similar blueprints with their recruitment process, scooping up young local talents. Irving has found there to be more similarities than differences between the two clubs even if they do compete in a fierce rivalry on the pitch. Pacific went the distance during their second full season in the CPL, bettering Forge in Hamilton to be crowned champions in 2021. Irving is hoping that Vancouver can take a similar leap in 2024, knowing that the ownership group has proven capable before.
"I'm just looking forward to what we do after this first year because I think you saw with Pacific the big changes that were made after the first year in terms of quality of play on the field. The club really took a big jump and so I'm looking forward to the jump that we can hopefully take in 2024."
Even though their 7th place finish in a league with 8 teams won't raise many eyebrows, VFC were able to at least find some form in the final stretch of the 2023 season, winning five of their last nine matches and climbing above Valour in the process. A big part of that progress was due to the leadership of Ghotbi, who was able to keep spirits high even when wins were few and far between. Dealt a young team with many individuals still learning how to be true professionals, Ghotbi pushed his team to play for the fans and deal with adversity head-on.
"Let's face it, he's coached at a very high level and for a large chunk of the season we were not doing so well," Irving said. "I think to remain positive despite all that is impressive and kind of goes to show a bit of his experience and being able to see things long-term rather than just in the short-term."
Outside of Ghotbi, the midseason acquisitions of seasoned midfielder Renan Garcia, CPL veteran Mikaël Cantave, and 23-year-old Vasco Fry also pushed Vancouver to a strong end to the season. Irving highlighted the trio for improving the overall quality while also adding some maturity to a team which led the league in under-21 domestic minutes by a fair margin.
"Coaches can say a bunch of stuff, the captain can say a bunch of stuff but ultimately you need multiple examples of what it means to be a professional," Irving stressed. "It doesn't have to be guys speaking it can just be guys showing them how they are as professionals. Guys like Miki, Renan, and Vasco, they're differing ages with differing experiences but all three are very professional players who take it very seriously and take care of themselves."
Now as VFC make their way through a lengthy offseason, Irving says that the Eagles need to bring their improved mentality into the preseason and keep building on the positive momentum they created at the tail end of their 2023 campaign. One way that is being put into action is through Ghotbi's persistence in nesting his players in competitive training environments as much as possible between November and April. James Cameron has already benefitted, having trained with Luton Town of the English Premier League.
"We want to do big things next year and if you want to be a part of it then you have to take care of yourself in the offseason, you have to be professional, and you have to come back in with a hunger because it's going to be more competitive in the squad next season.
"I thought our training at the end of the season was a lot more intense," Irving added. "Guys were really fighting and kind of towing that line of it going too far in a good way, because training needs to be competitive."
After speaking to Irving you really do get the sense that Vancouver's captain is a firm believer in his coach, his teammates, and the overall project that Rob Friend and the rest of the ownership team continue to work towards. When asked about what he's most looking forward to for next season, Irving noted that he can't wait to get back to playing in front of his hometown fans. But on top of that, he is eager to welcome some new faces to the locker room during the first days of preseason, recognizing that some more additions will help keep the squad fresh and also just add a bit more excitement.
"That first game of the season when we're back at home that's going to be a lot of fun."
We've seen teams in the CPL flip the script before. In 2021, it was Irving's Pacific. The year after, Atlético Ottawa went from worst to first. Halifax came alive this past season. Could 2024 be the year of VFC?
---