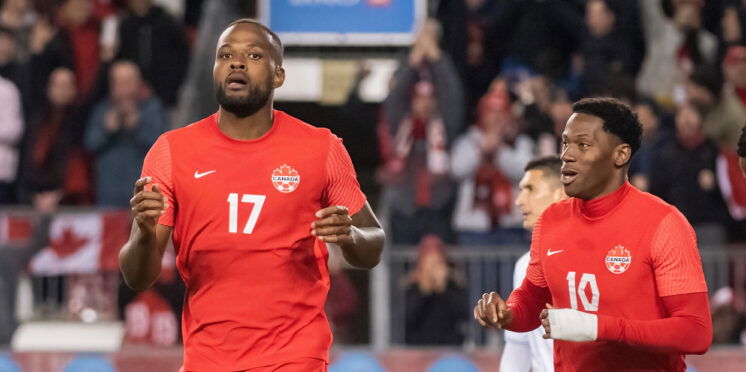 Canada boss Mauro Biello hails 'mentally strong' Jonathan David and Cyle Larin amid goal droughts
Canada face a Jamaica side laden with attacking talent on Friday night in the hot and humid capital of Kingston in the first leg of their CONCACAF Nations League and 2024 Copa América qualifier
And they travel to face the Reggae Boyz with their own strikers bang out of form.
Jonathan David and Cyle Larin have both been struggling for goals for Lille and Real Mallorca, respectively, so far this season. David hasn't scored a Ligue 1 goal since August 27, nearly three months ago, and hasn't netted in his last 11 games for either club or country. Meanwhile, Larin's only goal since last May came against a sixth-tier club in the Copa del Rey for Mallorca.
It's certainly not the situation you would design for your two first-choice strikers if you were Mauro Biello, but the interim CanMNT head coach brushed off any concerns about their form when speaking to the media on Thursday.
"They're excited to come here," Biello told reporters via Zoom on the eve of the CONCACAF Nations League and 2024 Copa América qualifier first leg.
"Forwards go through these moments, it happens so often, so it's something they're used to. They're both mentally very strong and sometimes, when you have a different environment, your mind refocuses."
What has been perhaps more concerning than the lack of goals has been the lack of playing time. Larin has been mostly a substitute all season long for Mallorca, although he is set for more game time in the short term with first-choice striker Vedat Muriqi injured. David, meanwhile, has started just one of Lille's last four games in all competitions.
Biello isn't downhearted, though; at least, not publicly.
He had said last week that Larin and David are "doing everything right" and he reiterated that message on the eve of Friday's game in Kingston.
"They're two players who have done extremely well for this country, they know that," he added. "Sometimes, it's not the goals; it's Cyle holding up the ball for us and allowing us to move up the field, it's Jonny moving into spaces and gluing things all together… The goals will come and they'll come in bunches."
While Larin and David will both start for Canada despite their club struggles, Biello's backup striker options have shifted this week.
When he initially announced his squad last week, the recalled Lucas Cavallini was the only out-and-out centre-forward backing up David and Larin. But the 30-year-old, who is reportedly no longer wanted at Liga MX side Xolos, had to withdraw from the squad due to injury and has been replaced by Columbus Crew's Jacen Russell-Rowe, the 21-year-old who has not seen much game time in recent weeks in MLS.
"The mindset behind the Lucas Cavallini selection was that whenever we sub in Lucas, he brings [aerial ability] at set pieces, a lot of energy," explained Biello. "Jacen brings that same profile, a big No. 9. He brings those similar elements. It was profile-specific for what we need for these games, that was the rationale behind that."
Ultimately, if Canada are to overcome a talented and dangerous Jamaica over two legs, regardless of the personnel on the field, there will have to be a great improvement upon what was on show in the 4-1 defeat to Japan last month. CanMNT were not quick enough, not sharp enough, and nowhere near defensively solid enough on that day in Niigata.
Biello knows that, and he stressed he's been spending the time trying to address it.
"You have to put things in place and learn from that game in Japan. There are certain things where we have to do better," he said. "You don't have that much time as a coach to implement some big changes, but there will be some.
"The players are starting to see the way I work, to see what my message is and understand what I want from them. That clarity for me is important."
Canadians will hope that clarity and understanding translate onto the pitch, first in Kingston on Friday and then back in Canad at BMO Field on Tuesday.
---