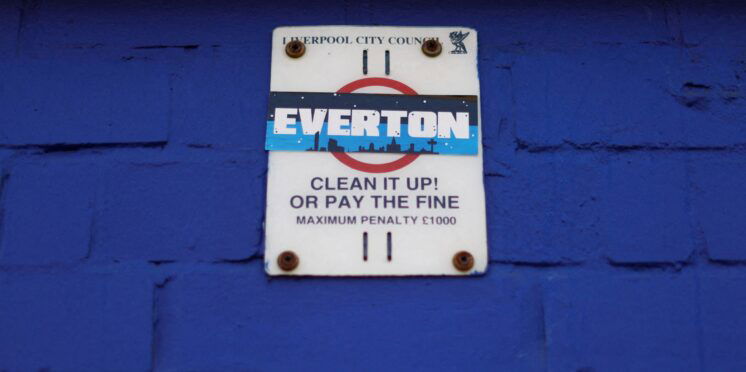 Everton docked record 10 points by Premier League for financial breaches as investigations into Man City, Chelsea continue
In a landmark ruling, Everton have been deducted a Premier League-record 10 points for allegedly breaching financial fair play rules in the first punishment relating to the league's profitability and sustainability rules in history.
The Toffees were found by an investigation by an independent commission to have posted losses of more than the maximum of £105 million ($179 million CAD) over three years that is allowed under EPL rules. The investigation found Everton overreached their allowed losses by £19.5 million ($33.3 million CAD) in "a serious breach that requires a significant penalty." The commission found the club's transfer business, as they attempted to stave off relegation, "was recklessness that constitutes an aggravating factor."
In a statement, Everton said they were "shocked and disappointed" at the severity of the punishment, which exceeds the nine-point deduction handed to Portsmouth in 2010 for going into administration, and will appeal.
The 10-point punishment dropped Everton from 14th to 19th, meaning they are now level on points with bottom-placed Burnley despite winning four games already this season.
Everton's statement added that it believes a sporting sanction for this financial infringement is "unjust," particularly as the club says it has been "open and transparent" with the league. In contrast, the league's claim that the club had failed to engage with the league in good faith, an accusation the team continues to reject, was upheld by the commission.
It could get worse for the Premier League ever-presents, too, as Leeds, Leicester, Burnley, and Southampton, all of whom were relegated in the last two seasons while Everton stayed up, have threatened to take legal action. Each club has 28 days to pursue a claim against Everton and any compensation awarded will be decided by the commission which investigated Everton's breach. The Daily Mail alleges Burnley, Leeds, and Leicester plan to sue Everton for a combined total of £300 million in damages.
Part of Everton's concern will be not only the threat of relegation but the fact that the ongoing sale of Farhad Moshiri's club to 777 Partners will be affected. The New York Times reports that, per the terms of the sale agreement, the amount that 777 will pay for Everton will fall based on the severity of a points deduction.
In a level and veiled tone, Everton's statement also stressed that they will "monitor with great interest the decisions made in any other cases concerning the Premier League's Profit and Sustainability Rules."
And therein lies the sky-blue elephant in the room.
Manchester City stand charged with 115 alleged breaches of the rules by the Premier League but deny any wrongdoing and are yet to receive a verdict after more than four years of legal casework. After all, not only is it harder to investigate 115 charges than one single charger, it's also harder to impose sanctions on Abu Dhabi's royal family than on a football club.
City's prolonged investigation is the first instance of charges being laid relating to alleged breaches of profitability and sustainability rules in the top tier of English football, with Everton being the second. A punishment for such a breach is unprecedented.
Meanwhile, of course, Chelsea are also under investigation for alleged breaches relating to former owner Roman Abramovich's running of the club. They were fined €10 million (£8.6 million) by UEFA in July, but no verdict from the Premier League and Football Association has yet arrived.
Some would argue that context shouldn't matter, as all investigations should be independent of one another. But it's impossible to ignore, even if you think it should be ignored.
To that end, the #AllTogetherNow Everton supporter group alliance voiced "outrage at the disproportionate punishment" that "punishes those innocent of any wrongdoing – the fans" and accused the league of double standards when, in 2021, the clubs who backed a European Super League were each fined less than £4m.
Certainly, the Premier League has set a hardline precedent here, and in doing so it has also made a rod for its own back.
Everton and their fans, supporters of other teams, and neutral observers will look on with keen interest at the continued investigations into Chelsea and particularly City. There has been talk that hefty points deductions or even expulsion from the league could be potential punishments for those "big six" clubs, who both have a list of charges and alleged breaches that are far more concerning and threatening to English football than Everton's.
The pressure will now be turned up for those hefty sanctions to materialize.
---