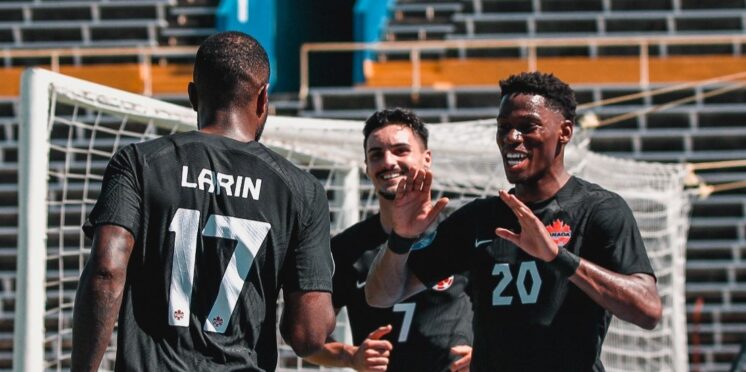 Cyle Larin and Jonathan David find confidence and goals again as Canada beat Jamaica
You know the ubiquitous saying: form is temporary, class is permanent. A tired cliché it may be, but it's also true.
It's something that Cyle Larin and Jonathan David would have done well to remember over the last few months during what has been a difficult time for them both.
The form and goalscoring droughts of Larin and David have understandably been a big topic of discussion leading into this national-team camp, with neither of CanMNT's two highest goalscorers of all time finding the net with any kind of regularity whatsoever for Real Mallorca and Lille, respectively. Larin's only club goal since May and his lone strike in 13 Mallorca games has come against a sixth-tier Spanish side. David hasn't scored in Ligue 1 for nearly three months, going 14 games without a goal. Meanwhile, there's also a line of thinking that the pair struggle to play together up front for Canada to any great effectiveness.
Those narratives were dismissed out of hand on Saturday morning as Canada beat Jamaica 2-1 in Kingston in the first and away leg of their CONCACAF Nations League quarter-final and 2024 Copa América qualifier.
Larin and David linked up well several times as Canada came forward, finding each other with neat interplay, supporting each other's runs and movement, and generally posing a dual threat whenever CanMNT were on the ball in a closely contested game. The finishing wasn't always there, but that's the rust of drought.
And the duo came up with a huge moment with the half-time whistle looming to set Canada on their way.
Canada interim head coach Mauro Biello said on Thursday that he had full confidence that the pair of strikers would be back in the goals soon enough, and he also hailed Larin's hold-up play as another key attribute that isn't always reflected in statistics. We saw that perfectly exemplified in Larin's assist for David, a superb piece of attacking play.
Larin showed the very, very best of his strength and hold-up play, one deft turn taking two defenders out of the game and suddenly freeing him to fire across goal and supply a tap-in for David. It wasn't only a huge goal in the context of the game and the two-legged tie, but in the context of Larin's and particularly David's respective seasons.
The only way the first half could have finished more perfectly for the pair of strikers was if Larin, who had fed David so well for the opener, had steered his shot on target from a great position after being set up by David in the sixth minute of added time. But you can't have everything in life.
Jamaica would ultimately get the goal they deserved, Clermont striker Shamar Nicholson finishing expertly after Canada's defence switched off from a quick free kick.
Larin was substituted with 20 minutes remaining and Richie Laryea's superb right-wing run set up Stephen Eustáquio, arguably CanMNT's most dangerous goalscorer right now with three goals in his last nine Porto games, to sweep home an 85th-minute winner.
It's not only a historic win for CanMNT in Jamaica, their first on the island nation in 35 years, but one that puts them in firm control of their own destiny heading to BMO Field on Tuesday.
Things could have been much different had Leon Bailey scored even one of his three golden first-half chances, the Aston Villa winger twice firing wide, once with an attempted delicate lob over Milan Borjan and again with a driven effort from a narrow angle, and then hitting the post at the back post when it looked easier to score.
But ultimately a win is a win, and this one feels huge for Canada.
It's fitting that an out-of-form and low-on-confidence team's success on Saturday hinged largely on two out-of-form and low-on-confidence attackers finding their feet and their effectiveness in front of goal again.
Larin and David combining to score is the best possible thing that could have happened for both individuals and for CanMNT, a huge shot of much-needed confidence for the duo. Canada, Mallorca, and Lille may well reap the rewards in the weeks to come.
---