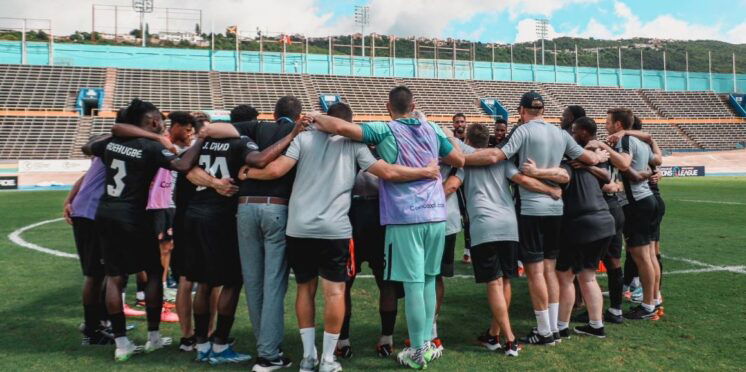 Mauro Biello and Canada's 'brotherhood' proud of unity after overcoming weather and doubts to beat Jamaica
Speaking to many Canadian fans in the build-up to what was supposed to be a showdown under the Friday night lights at Kingston, Jamaica's Independence Park, you'd have been forgiven for thinking that Canada were a clear underdog.
Confidence in this team has waned over the last year. The high of World Cup qualification seems a long time ago after a disappointing summer and an autumn of change.
But the interim head coach has been firm in his intent to stick with Canada's self-monikered "brotherhood" as they look to navigate a two-legged CONCACAF Nations League quarter-final and 2024 Copa América qualifier. It's a tie that will go some way to showing where this team, who were kings of CONCACAF in World Cup qualifying two years ago, really stands right now.
On Saturday morning, after the torrential rain that caused the game to be postponed by 15 hours had dried up in the baking Jamaican sun, they laid down a marker.
"We knew coming here would be very difficult," a visibly pleased Biello told reporters via Zoom after the game, hailing his team's "resilience" in the face of adversity and tough circumstances.
"It was very difficult waiting around yesterday, the anxiety of whether the game is going to be on. Then suddenly you're playing in the morning in totally different conditions, in the heat. I'm very proud of the team, they showed really good character… Considering what we went through yesterday, I think it's a credit to the players… That's when you need that experience to come through."
Two of the most experienced of all of the members of Canada's old guard, senior statesmen in the brotherhood, Milan Borjan and Steven Vitória, spoke to Canada Soccer's media team after the game and echoed their head coach's assessment: the last 24 hours have been a huge obstacle, and successfully hurdling it deserves praise and celebration, even if the wider job is only half done with the second leg in Toronto on the horizon on Tuesday night.
"It was tough, we had to adapt," reflected Vitória. "But that's what this group's about. We don't look for excuses, we look for solutions. Together we had to dig deep, our brotherhood had to dig us out a little bit, but we did, and we got a great win and a great energy going into BMO."
"These guys, what they did today playing in this heat and on this bad pitch, is unbelievable," said Borjan. "It was very, very difficult yesterday, we didn't know if we were going to play or not play. But we came out and showed the brotherhood once again and won the game. It was tough, very tough.
"It's a lot of confidence. When it's important, we show where the brotherhood is. This game was very important to win. The boys did an amazing job. People don't even know how hot and humid it is here, you can't breathe."
All in all, Borjan mentioned "the brotherhood" three times in less than 60 seconds, in addition to Vitória's reference to it. And that speaks volumes about the mental state of this team. Biello's squad selection was questioned for its reliance on experience, but a lineup that was virtually identical in most cases to the XI that led them through World Cup qualifying in 2021-22 got the job done on Saturday in difficult circumstances.
Now, on a short turnaround that has become even shorter, they return to BMO Field for the second leg on Tuesday night to complete the job. Biello knows they're not there yet, but his side have the commanding position and the advantage of Torontonian fall conditions and vocal home support.
"We wanted to come out of here with a result, we knew that would put us in a good position back in Toronto," said Biello. "The first phase is mission accomplished for us. But we know we'll have a difficult game in Toronto. We know they still have very good players who can change the game at any moment… The focus right now is recovery."
That's true; Leon Bailey's hat-trick of missed first-half chances with the score at 0-0 is enough to prove that. But the Canadian brotherhood will feel rejuvenated after Saturday. Progress and a spot at the Copa América is within their grasp, and they won't be letting go easily.
---