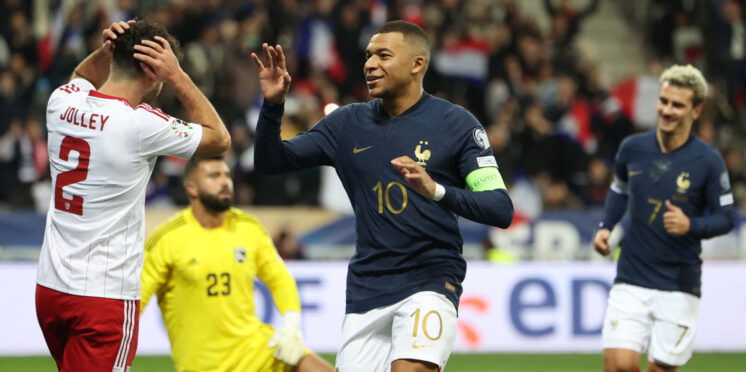 France embarrass Gibraltar 14-0 to set goal scoring record with Kylian Mbappé hat-trick
And to think there are some North Americans who think there isn't enough scoring in soccer.
France achieved their largest victory ever with a 14-0 thrashing of 10-men Gibraltar in their EURO 2024 Group B qualifier on Saturday. Kylian Mbappé scored a hat trick, and Warren Zaire-Emery netted a goal on his debut.
This victory margin also set a record for European Championship qualification matches or a World Cup, surpassing Germany's 13-0 triumph over San Marino in 2006.
By half-time, France led 7-0, with goals from Marcus Thuram, Zaire-Emery, Mbappé, Jonathan Clauss, Kingsley Coman, and Youssouf Fofana, after an own goal had given France the lead in the third minute.
France had already secured the top spot in the group and qualification. Manager Didier Deschamps gave 17-year-old Zaire-Emery his debut, making him the youngest France player since 1914.
The PSG midfielder became the youngest scorer for France since 1914 with his 16th-minute goal, a record previously held by Real Madrid's Eduardo Camavinga. However, his debut was cut short when he was fouled by Ethan Santos, leading to the Gibraltar defender's dismissal.
With Gibraltar down to 10 men, France's previous record win, a 10-0 victory over Azerbaijan in 1995, was clearly in danger.
Goals from Adrien Rabiot and Coman's second brought the record closer, and Ousmane Dembele made it 10-0. Mbappé then scored twice to complete his hat trick, his third goal being a stunning long-range shot after noticing the goalkeeper off his line.
Mbappé's hat trick took him past Antoine Griezmann into third place on France's all-time scorers list with 46 goals, just five back of Thierry Henry.
Substitute Olivier Giroud also contributed with two late goals, taking his tally to 56 for his country.
France, having won all seven group games, will aim to keep their perfect record when they face Greece on Tuesday.
It was Gibraltar's worst-ever loss and they have yet to score in the qualifying group. They will conclude their campaign with a home game against the Netherlands, who secured qualification with a 1-0 victory over Ireland on Saturday.
---