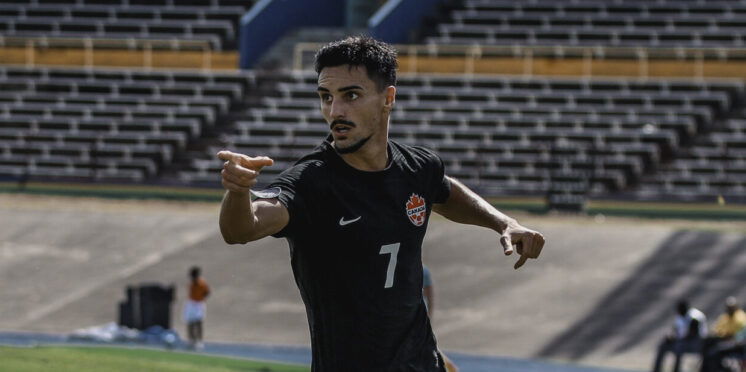 Nightingale: Stephen Eustáquio affirms status as Canada's most important player in CanMNT's Jamaica win
A few things were different about Canada in the 2-1 CONCACAF Nations League first-leg win over Jamaica compared with the last time CanMNT played, in the 4-1 friendly defeat to Japan in October.
Mauro Biello seemed to have learned some tactical lessons, Canada were more solid in defence and more controlled in possession, and they found more of a cutting edge in front of goal when it mattered.
But of all the spot-the-difference alterations, none was more important than one man's return.
Received wisdom might have you believe that Alphonso Davies is the Canadian men's national team's most important player. While he's the team's global superstar, he's not their most vital cog. That is Stephen Eustáquio.
With Eustáquio missing from the XI against Japan, Canada were decimated, sliced apart by the Samurai Blue time after time whether Japan were in controlled possession or were breaking quickly on a counter-attack. There was no control, no metronomic reliability to Canada's midfield play.
Against Jamaica, while Canada were hardly emphatic in their win, that base level of midfield control was back. To say it is entirely down to Eustáquio would be a little unfair on the likes of his young midfield partner Ismaël Koné, but Eustáquio is by a chasmic distance the single biggest contributor to all that Canada do well in midfield.
Let's start with his headline contributions on Saturday in Kingston.
He scored the game-winning goal in what English media like to describe as Frank Lampard's style — that is, ghosting in from deep to arrive late into the box unmarked while defenders are preoccupied with strikers.
With Jonathan David and Cyle Larin looking to build form and momentum from nothing after long barren spells in front of goal, there is no Canadian player you would want running onto a pass like Richie Laryea's superb pulled-back cross more than Eustáquio.
Anyone who watches FC Porto with even semi-regularity has seen over the last 18 months or so Eustáquio's transformation from defensive midfield lynchpin to two-way dual-threat central midfielder. He's added goals to his already impressive game, netting seven times in all competitions for Porto last season and adding three more already so far this campaign across his last nine games at club level.
It's a huge development, one that has seen him become the most valuable central midfielder in Portugal.
But it wasn't just the 26-year-old Leamington, Ont. native's winning goal that saw him named man of the match against Jamaica. As much as his goalscoring ability is a dangerous midfield weapon for CanMNNT, so much of Eustáquio's importance comes from how well he does the little things.
Every team needs one of those midfielders, a player whose greatest consistent contributions are near-invisible to the naked untrained eye. From winning ugly challenges to keeping possession ticking over to covering the inside channels when opponents have the ball to disrupting their play with smart fouls at smart times, Eustáquio has the complete midfielder's abilities.
He's also so, so intelligent as a player, able to read the play as it unfolds in real time. He's been described by those close to him as "a coach on the field," a player who lifts the game of those around him.
On Saturday, he ended the game with not only the winning goal and the Man of the Match award but five passes into the final third, one chance created, and a goal with his only touch in the Jamaica penalty area on the attacking side, 89 percent pass accuracy across short and long distances, and three ball recoveries on the defensive side.
He's a weapon in Canada's attacking arsenal, their pace-setter in midfield, and an important defensive screen all rolled into one player. He's the stabilizer that this CanMNT team needs to be successful. And his uncanny knack for being in the right position at the right time makes it all seem rather effortless. All this from a player who suffered an ACL injury at the age of 22, the kind of injury that can ruin careers or at the very least lower a player's ceiling.
At still just 26 years old, Eustáquio is already the keystone of this Canada side, the foundational piece on which the entire structure of the team depends. Take him out of the XI and things begin to crumble. If he had gone into the 2022 World Cup last winter fully fit, things could have been different in Qatar. Thankfully, he'll still only be 29 by the time the 2026 World Cup rolls into North America.
For whoever is in charge of CanMNT in the long term post-Herdman era, keeping Eustáquio fit and building the team around him is at the core of Canada fulfilling their potential over the next three years. He'd be too modest to admit it himself, but he's vital in every sense.
---