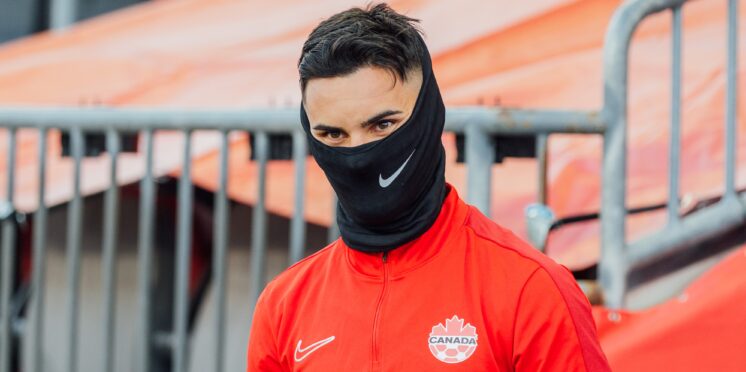 Canada's 'nice guy' Stephen Eustáquio shrugs off CanMNT leader label: 'I just try to be me'
Stephen Eustáquio reiterated his claim to being the Canadian men's national team's most important and most consistent player on Saturday morning in the 2-1 win over Jamaica.
But that's certainly not a suggestion he would make himself. He's far too modest for that kind of talk.
"The leadership you guys talk about is probably because of my style of play," the Leamington, Ontario-born midfielder told media at BMO Field on Monday night ahead of CanMNT's second leg against Jamaica. "It's just me being me, I don't try to force things."
Eustáquio was speaking just over 48 hours after his 86th-minute winning goal gave Mauro Biello's side a 2-1 lead to bring back home to Toronto, putting them 90 minutes away from not only reaching the semi-finals of the CONCACAF Nations League but also qualifying for the 2024 Copa América, which kicks off in the United States next June.
It was the vital moment of the rain-delayed first leg in Kingston and the strike upon which head coach Mauro Biello can hook his gameplan for the return leg in Toronto. Canada will be expected to win by the lakeshore, but a draw (or even a 1-0 defeat) would now suffice thanks to Eustáquio's most decisive contribution of the game.
"It felt amazing," Eustáquio smiled. "It's obviously a very important goal as it gives us the lead. We knew that if we did the job in Jamaica, we'd make things easier for ourselves in Toronto."
The 26-year-old's return to the CanMNT midfield was transformational when compared with the 4-1 defeat to a strong Japan side last month. Eustáquio is not only a midfielder of great technical quality but a calm and controlled presence in the midfield somewhat akin to the role that Atiba Hutchinson played for so many years in the centre of the field for Les Rouges.
Asked at BMO Field on Monday night if he saw himself as a figure who shoulders some of the burden that was left by Hutchinson's retirement, Eustáquio was clear: he lets his football do the talking.
"Because I'm a nice guy and I work hard for the team, I think the guys respect me," he considered. "What I do is for the good of the team. Atiba was like that, you know. He didn't need to speak and we knew what he was trying to say. I just try to be me."
Therein lies part of Eustáquio's appeal and his importance: there's no ego there, no shred of arrogance despite the fact he is so important to this team and is one of few male Canadian players who habitually play and impress in the UEFA Champions League.
Biello is in no doubt about Eustáquio's importance.
"Steph's a true professional," Biello said, sitting alongside his midfielder. "He's worked hard and stayed focused. You see him week in, week out for Porto, playing in the Champions League at a high level. It's all down to his personality to push and persevere."
Canada need players like Eustáquio in the XI every game if they are to achieve the goals held within camp. The road to the 2026 World Cup will be littered with targets set as checkpoints of this team's progress after something of a stagnation in 2023 following the dizzying highs of 2022.
For now, the only thing they are focused on is completing the half-finished job on Tuesday night: getting past Jamaica and booking that Copa América spot. The thought of competing against the likes Argentina and Brazil next summer is the dangling carrot motivating every member of that Canadian roster.
"It's a very important tournament," Eustáquio acknowledged. "Inside the locker room, we know how much of a big tournament it is. Probably the fans in Canada don't really know the value of the Copa América but for me, in terms of passion and quality and velocity and intensity, all these types of things, it's probably one of the best tournaments in the world."
Eustáquio is used to playing in those competitions at club level; for a player of his calibre, doing it more frequently on the international stage is on that list of goals.
Canada's second leg against Jamaica kicks off at 7:30 p.m. ET / 4:30 p.m. PT at BMO Field on Tuesday night live on OneSoccer and FuboTV.
---