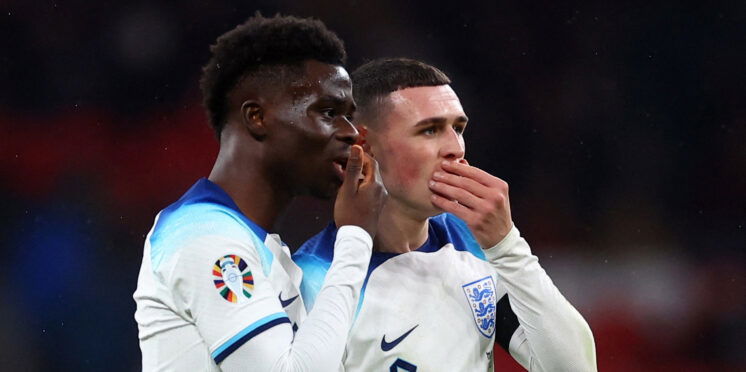 EURO 2024 qualifying — which nations have booked their ticket to Germany, who's out, and what's still at stake
Published: November 19, 9:13 p.m. ET
Updated: November 20, 5:02 p.m. ET
The final round of EURO 2024 qualifiers will determine the last automatic spots, as well as the 12 countries that will compete in the playoffs in March to complete the 24-team tournament.
In addition to the hosts, Germany, 20 nations will qualify this week. The remaining three spots will be decided through playoffs, which are determined by the final standings of the 2022 UEFA Nations League.
So far, nineteen teams have automatically qualified: Belgium, France, Portugal, Spain, Scotland, Turkey, Austria, England, Hungary, Slovakia, Albania, Denmark, Netherlands, Romania, Switzerland, Serbia, Italy, Czechia, and Slovenia. One automatic place is still up for grabs: Croatia or Wales will seal it on Tuesday.
In Group A, Spain secured a place in Pot 1 with a victory over Georgia. Scotland, who failed to beat Austria but know they're through, will be in Pot 3. Georgia is guaranteed a spot in the UEFA Nations League C playoff path, while Cyprus and Norway have been eliminated. So, there's another major tournament where we won't see Erling Haaland.
In Group B, France has already won the group with a perfect record and will be in Pot 1 for the finals draw. The Netherlands, finishing second, will likely be in Pot 3. Greece will be seeded in the UEFA Nations League C playoffs, while Gibraltar and the Republic of Ireland are out.
In Group C, England has qualified as group winners and secured a spot in Pot 1 with a draw against North Macedonia on Monday. Italy just about qualified on Monday by drawing 0-0 with Ukraine, surviving what looked like a stonewall penalty shout in the last minute to get the point they needed to seal second spot and send Ukraine into the playoffs.
In Group D, Turkey has qualified, though are not yet assured of first place. Croatia is back in pole position after their win over Latvia. Croatia will avoid the playoffs if they beat Armenia. Wales must beat Turkey and hope Croatia draw or lose.
In Group E, Albania qualified with a draw against Moldova on Friday and secured a Pot 2 berth with a draw against the Faroe Islands. The Czechia-Moldova game was a straight battle for qualification and was won 3-0 by the former.
In Group F, Belgium won the group with their win over Azerbaijan on Sunday and will be seeded in Pot 1. Austria finished in second place and take the final place in Pot 2.
In Group G, Hungary and Serbia have both qualified.
In Group H, Denmark booked their place with a win over Slovenia on Friday, have won the group and they are almost certain to be in Pot 2 in the finals draw. Finland and, remarkably, Kazakhstan are heading into the playoffs.
In Group I, Romania and Switzerland have both qualified.
In Group J, Portugal has qualified and is guaranteed to be in Pot 1 for the finals draw. Slovakia has confirmed their place finishing second and will be in Pot 3. Luxembourg, an eternal minnow in European competition, is heading into the playoffs along with Iceland.
The playoffs will be divided into three paths through the UEFA Nations League — A, B, and C. The winners of the groups in UEFA Nations Leagues A, B, and C are guaranteed a playoff, should they need it.
The EURO 2024 draw takes place on Saturday, December 2 at 12 p.m. ET featuring four pots of six teams.
As hosts, Germany will be joined in Pot 1 by the five group winners that finished with the best qualifying records. The other group winners will be in Pot 2 and the runners-up with the best records while Pots 3 and 4 will include the other group runners-up by order of points won in qualifying. The three playoff winners will be tossed into Pot 4, but we won't find out who those teams are until those playoff fixtures are played in the March international window.
---