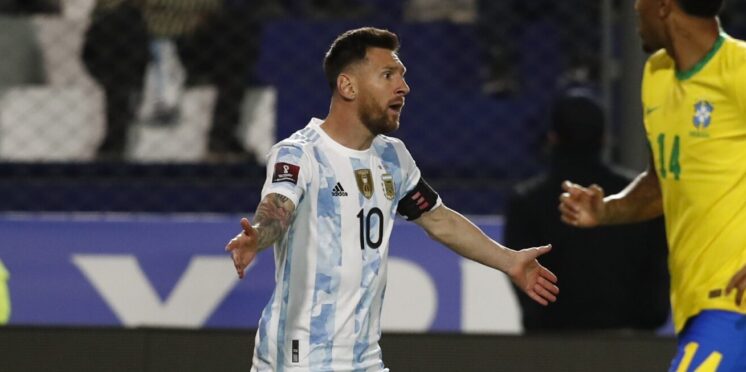 Will Lionel Messi finally score against Brazil in a World Cup qualifier?
Lionel Messi has won the World Cup. He's the first MLS player to ever win the Ballon d'Or. He led Inter Miami to a trophy in his first tournament. But, Messi has never scored against Brazil in a competitive game. Shocking, isn't it?
Messi will have the opportunity to break another record in his illustrious career when Argentina face Brazil in a South American World Cup qualifier on Tuesday. Despite scoring 31 goals for Argentina in WCQs, Messi has yet to score against Brazil in these matches. His five goals against Brazil have all been in friendly games.
The match at Rio de Janeiro's famed Maracana is expected to be a sell-out with all 69,000 tickets sold. Both teams are coming off losses; Brazil fell 2-1 to Colombia and Argentina were blanked 2-0 by Uruguay at home.
This could be the last time Messi plays at the Maracana for Argentina. The Inter Miami man has a mixed history there. He lost the 2014 World Cup final to Germany there, but also won his first major international trophy by beating Brazil to win the 2021 Copa América, sadly for the sake of football history, in an empty stadium because of COVID.
Argentina have 12 points from five matches so far in World Cup qualifying to lead the group. Uruguay have 10 points, but Brazil is in fifth place with just seven points. Tuesday night might feel like a final.
The top six South American teams will automatically qualify for the 2026 World Cup in Canada, the United States, and Mexico. The seventh-place team will enter an intercontinental playoff.
Brazil haven't looked great under new coach Fernando Diniz. Having lost two in a row, a loss to Argentina would send deafening alarm bells and mark Brazil's first-ever home loss in a World Cup qualifier. Brazil will also be missing several players for the match, most notably Real Madrid's Vinicius Jr.
The 17-year-old Brazilian prodigy, Endrick, who is set to join Real Madrid next year, is thrilled by the prospect of playing against Messi for the first time. Because obviously, he grew up watching him. Endrick is expected to play in the second half, at least.
Argentina head coach Lionel Scaloni has kept most of his training sessions private, but there are indications that Ángel di Maria, Nico González, and Leandro Paredes may be in contention for a place in midfield. Inter Milan star Lautaro Martínez, who hasn't scored for the national team in his last 14 matches, could replace Manchester City's Julián Álvarez up front.
The stakes are high, and the world will be watching.
Other matches on Tuesday include Paraguay vs. Colombia, Uruguay vs. Bolivia, Ecuador vs. Chile, and Peru vs. Venezuela. The seventh and eighth rounds of South American qualifying will take place in September, following next summer's expanded Copa América, which Canada will qualify for if they advance past Jamaica on Tuesday to the CONCACAF Nations League semi-finals.
---