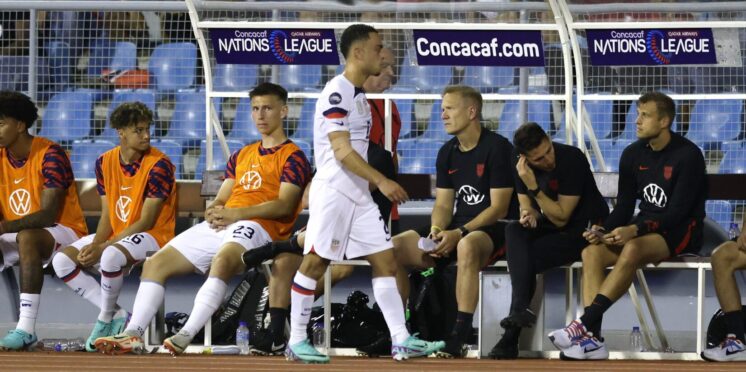 Sergiño Dest red card nearly costs USA a Nations League semi-final berth, leaves USMNT angry
There's nothing quite like playing in CONCACAF, something that Dutch-born United States full-back Sergiño Dest learned the hard way Tuesday night in Trinidad.
The United States advanced past Trinidad and Tobago with a 4-2 aggregate win, but lost 2-1 in Trinidad in the second leg of their CONCACAF Nations League quarter-final after the 23-year-old was shown a red card for his petulance, leaving his teammates and head coach flustered and angry.
Annoyed by a refereeing decision, Dest kicked the ball into the stands in frustration, much to the visible disappointment of his teammates. Dest was shown a yellow card, which led to further confrontation with the referee who then pulled out a second yellow, leaving the USA to play the final 51 minutes with just 10 men.
"Yeah, there aren't too many things I can say publicly that we said privately," veteran defender Tim Ream told reporters post-game. The Fulham man was noticeably angry with Dest as the 23-year-old left the pitch. Goalkeeper Zach Turner intervened to rush Dest down the tunnel so the U.S. could resume play with 10 men.
"There were a lot of choice words at halftime. But at the end of the day, we had to focus on the second half. So we couldn't focus on that situation at the time. We had to dig in, with 45 minutes to try to get a result and obviously advance," Ream said.
If not for a 3-0 win in Austin last Thursday, the reigning, and so far only, CONCACAF Nations League champions may have found themselves out of the tournament.
"He put a number of guys in jeopardy, made a number of guys do a lot of extra work in this weather, and it's inexcusable," said USMNT head coach Gregg Berhalter.
With temperatures around the low 30s and humidity around 90 percent, even after sunset in Port of Spain, it was a grueling night for a USMNT determined not to replicate the embarrassment of October 2017 when Michael Bradley, Jozy Altidore, Christian Pulisic, and the USA failed to qualify for the 2018 World Cup in Russia.
Dest's dismissal took much of the celebration off automatically punching their ticket to next summer's Copa América, which the USA are hosting and would most likely still have been allowed to play in but were still tasked to qualify for.
"It is concerning, because that's not what we want to represent. It's not who we are as a group," Berhalter told reporters after the match. "We pride ourselves on staying mentally disciplined, battling through any type of conditions. Whether they're good decisions or bad decisions, we're supposed to keep going and respond in an appropriate way. That obviously wasn't the right response from Sergiño."
Antonee "Jedi" Robinson called Dest's tantrum "a moment of unprofessionalism." He's not wrong.
Dest is the first USMNT player since Eric Wynalda in 1990 to receive two red cards in the same calendar year.
"He apologized to the group. He said it's not going to happen again," Berhalter said. "As a team – the players and staff – we need to hold him accountable. Because it's inexcusable. It really is. And we're very firm with our words after the game. He put a number of guys in jeopardy, made a number of guys do a lot of extra work in this weather. It's inexcusable."
"Serg has done a great job of maturing and growing over the years that he's been with the group," Berhalter said. "And for him, this has to be a learning experience. It will be a learning experience. You know how we work. We give people second chances. We work with people. We help them overcome instances like this. We'll do the same with Sergiño."
The Barcelona defender, who is on loan at PSV Eindhoven, was sent off against Mexico last June in the Nations League semi-final in Las Vegas. Dest was provoked by Edson Alvarez, who pushed him near the touchline in the 85th minute of a very heated game that the USMNT were leading 3-0. It led to a brawl, and repeated calls for come from the very pro-Mexican crowd, and forced Dest to miss the final against Canada three days later.
Joe Scally replaced Dest in that victorious final against CanMNT and the Borussia Mönchengladbach full-back was brought in to replace Dest again on Monday night in Trinidad. Might Berhalter just roll with Scally in the next international window in March when the USMNT defend their Nations League crown? It's a natural question, but Berhalter did not appreciate being asked it.
"I've been asked three, four questions about Sergiño already, and what I don't want this to turn into is a witch hunt," the USMNT head coach said. "He's a young player. He's a fantastic part of the team. He's going to learn. He's going to grow. He made a dumb mistake. He knows that. He apologized to the team. And we've moved forward."
Shortly after the match, Dest posted an apology on Instagram that read: "I want to apologize to my Teammates, Staff, Fans and whole nation for my behaviour it was unacceptable, Selfish and immature I let my team down! It's something I have to learn from and it won't happen again!"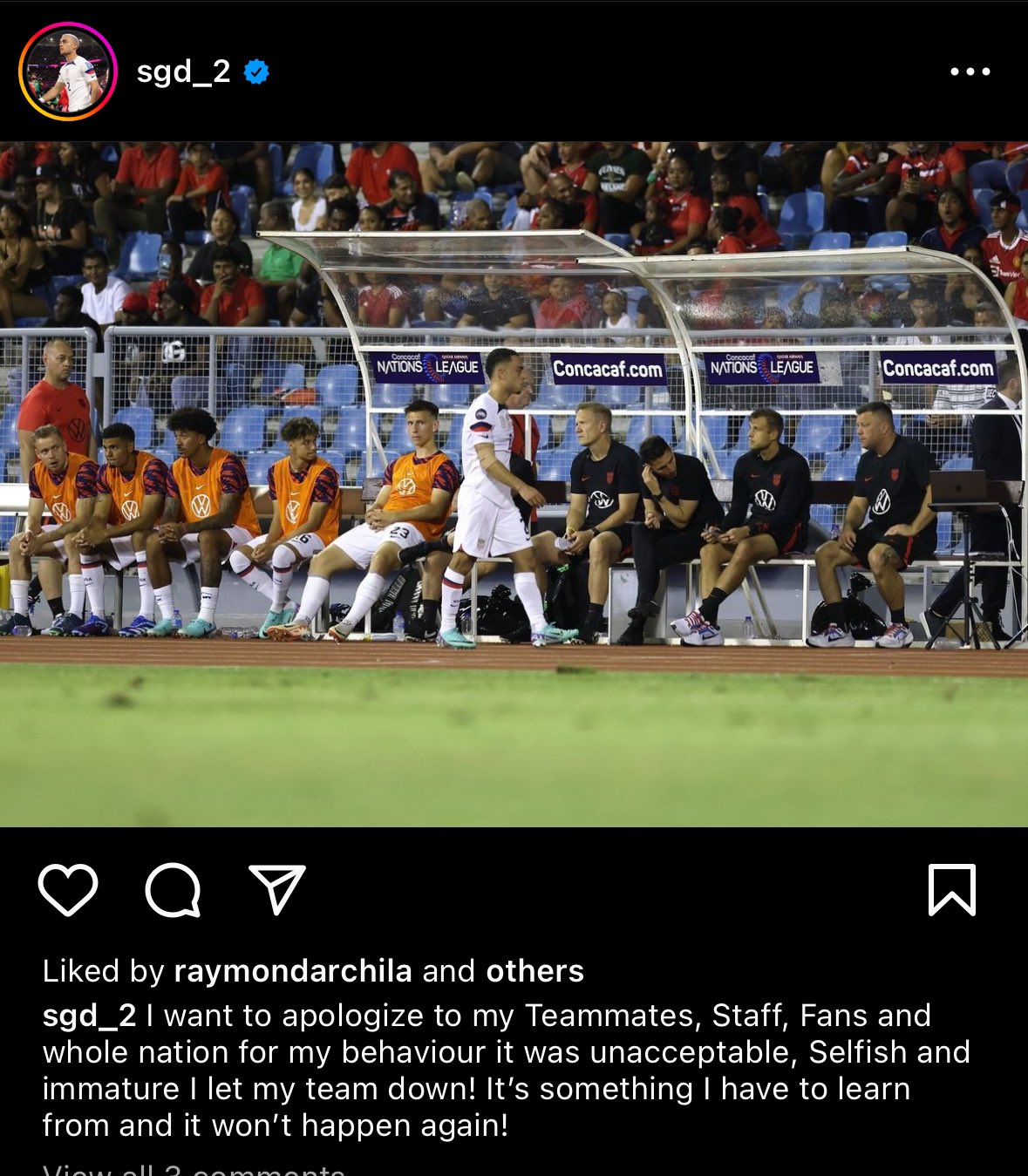 Dest is suspended for the Nations League semi-final, which will be played at the Dallas Cowboys' AT&T Stadium in March.
The 23-year-old would be eligible to play in the final, assuming the USMNT advances, but Berhalter might just decide to leave Dest at PSV Eindhoven as a lesson that such immature behavior has no place in his squad. Based on the body language of Ream and several other U.S. players, there might not be too many members of the squad opposed to that idea.
---